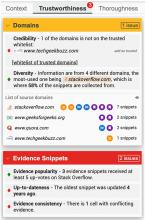 Don't reinvent the wheel, the saying goes. But before using someone else's design, at least make sure it will be round.
The answers to most people's questions or the solutions to most challenges can be found within the seemingly endless content on the internet. The problem, however, lies in determining what content is good to reuse and what content should be tossed aside as refuse.
And often, validating a piece of found content or information takes longer than if someone were to just start from scratch.