HCII Researchers To Study Improving Algorithm, Computer Science Education as Part of CERES Network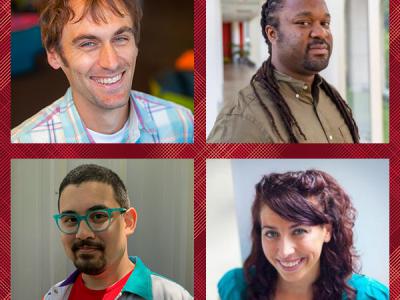 Researchers in Carnegie Mellon University's Human Computer Interaction Institute will collaborate with institutions around the world to tailor digital technologies to help children and families learn, play and socialize as part of the Connecting the EdTech Research EcoSystem (CERES) network.
Created through a five-year, nearly $11 million grant from the Jacobs Foundation, the network brings together leaders from computer science, psychology, neuroscience, education and educational technology. The University of California, Irvine, will lead the initiative.
CMU researchers will look for ways to increase the awareness of public algorithms and improve computer science education for girls of color.
HCII Professors Jeffrey Bigham, Ken Holstein, Patrick Carrington and Amy Ogan will head CMU's participation in the network. Gillian Hayes, a CERES co-lead and UCI's vice provost for graduate education and dean of the Graduate Division, said the CMU team is working at the frontier of human and machine intelligence collaboration to address the needs of children and families globally.
"The Carnegie Mellon team's combined expertise in intelligent tutoring, accessibility and user experience will be essential to developing scalable solutions that support education for everyone," Hayes said.
Holstein and HCII professor Motahhare Eslami aim to familiarize communities with the public algorithms that make or guide decisions in areas like child welfare, housing and criminal justice. These algorithms affect many local communities daily, and yet most community members are unaware of their existence, let alone their potential benefits and risks. Wesley Deng, an HCII Ph.D. student and part of Holstein's CoALA Lab, is exploring how informal learning spaces, like kiosks or sculptures installed in public spaces, can offer quick information about these algorithms, and even engage community members in providing feedback on them.
"We think it is important to get a lot of younger voices," Holstein said. "The goal here is really to educate community members and increase awareness and civic engagement. Eventually, there will be opportunities for some to engage in the design of the algorithms."
Ogan is working to improve computer science education for girls of color. Along with Ph.D. student Jaemarie Solyst and postdoctoral fellow Angela Stewart, she is building a computer science curriculum that prioritizes power and identity alongside programming and math. The curriculum makes use of a social robot that interacts with the girls, helping them to not only learn computer science but to also see themselves as technosocial agents of change and recognize that through computer science, they can change their world.
"One of the concerns that stops girls of color from engaging in computer science is this feeling of not belonging," Ogan said. "So it becomes important to not just teach CS concepts but to teach with an understanding of who learners are as people and how they fit into this field."
Ogan, Solyst and Stewart are working with Assemble, a nonprofit organization and community space for arts and technology education in Pittsburgh's Garfield neighborhood, and Girl Scouts both locally and in Arizona.
Bigham and Carrington will add their expertise in accessibility to addressing the increasing barriers children with disabilities face when accessing education.
Read more about CERES in this story from the University of California, Irvine.
Related People
Jeffrey Bigham, Patrick Carrington, Amy Ogan, Ken Holstein, Motahhare Eslami, Wesley Hanwen Deng, Jaemarie Solyst,
Research Areas
Accessibility, Intelligent Tutoring Systems, Learning Sciences and Technologies, User Experience Design (UX)