Myers Named HCII Director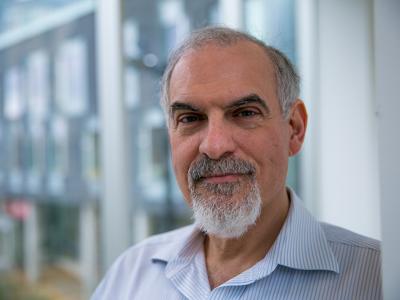 Martial Hebert, dean of Carnegie Mellon University's School of Computer Science (SCS), has appointed Brad Myers as the new Charles M. Geschke Director of the Human-Computer Interaction Institute (HCII), where he has been a faculty member since 1987.
Myers, who currently serves as interim head of the HCII, earned his Ph.D. in computer science from the University of Toronto and holds a joint appointment in the Software and Societal Systems Department.
"Brad's track record in both research and education will be instrumental in leading the HCII into its next chapter," said SCS Dean Martial Hebert. "He has dedicated his entire career to the institute's success, and I cannot think of a better person to take the helm. I thank him for undertaking this important role, and I know the entire school looks forward to working with him."
Myers' research has made a marked impact on the human-computer interaction (HCI) field. His master's thesis was one of the earliest data visualization systems, and at CMU he has created toolkits that incorporate novel designs for objects, constraints, output and input handling, command objects, and interactive tools. His more recent research focuses on using HCI techniques to improve programming for novice, expert and end-user programmers.
Myers earned the SCS 2022 Alan J. Perlis Award for Imagination in Computer Science "for pioneering human-centered methods to democratize programming," and received the ACM SIGCHI Lifetime Achievement Award in Research in 2017. He is an IEEE and ACM fellow, a member of the CHI Academy, and has won numerous best paper and most influential paper awards. He has authored or edited more than 550 publications and has been on the editorial board of six journals. Myers earned both a bachelor's degree in computer science and engineering and a master's degree in computer science from the Massachusetts Institute of Technology.
"The HCII has outstanding faculty, staff, students and alumni, and I'm honored to be its next director," Myers said. "I hope to inspire our community members to do their best work, while also supporting an environment that encourages balance and embraces the people who make our institute so special."
One of seven departments in SCS, the HCII is dedicated to connecting thought leaders in computer science, design, and the behavioral and social sciences in order to develop human-centered software, services and systems that improve people's lives through technology. It's directorship was endowed in 2012 by Charles M. Geschke, a CMU alumnus and co-founder of Adobe Systems Inc., and his wife, Nancy.
For More Information
Aaron Aupperlee | 412-268-9068 | aaupperlee@cmu.edu
By: Susie Cribbs
Related People
Brad Myers