CMU Experts Help Reach Learners in Uganda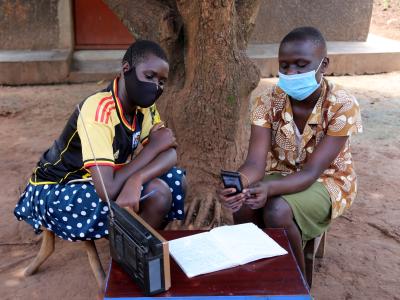 Financial constraints and physical distance from schools kept more than 75% of school-aged learners in Uganda out of the classroom, even before the COVID-19 crisis. By 2021, the pandemic worsened the situation.
Yiya AirScience is a virtual classroom that can be accessed in remote, rural and underserved communities across Africa. It is changing the way learners access education in the country by reaching them where they are, even without internet access, computers or smart phones. Now, Carnegie Mellon University learning scientists are partnering with the organization to improve their technology and better understand how learners are using it.
Yiya's virtual classrooms use equipment learners already have access to, like basic touchtone cell phones and radios. Licensed teachers broadcast lessons over the radio and use robocalls and text messages to distribute content and encourage participation. They can also get answers from students by phone (voice) or from a low-tech app, either in real-time during the lesson or asynchronously.
As of 2022, more than 50,000 individuals have enrolled in the program. Most of Yiya's lessons are focused on science, technology, engineering and math (STEM), with an entrepreneurship angle — students learn to make technologies such as solar food dryers and bicycle-powered phone chargers using local materials. Students are not just learning STEM concepts but putting them to work in ways that can benefit their families and communities.
Samson Wambuzi, the co-founder and chief innovation officer, said focusing on rural, underserved communities helps address inequity across the continent.
"We believe that access to high-quality education for all young people equips them with the skills they need to solve problems in their community and change the status quo of poverty," Wambuzi said. "We prioritize high-quality, interactive, practical learning which makes the lessons more engaging and motivating."
Like many virtual classrooms, Yiya relies on data to determine how many users they are reaching and how they are responding to the learning materials. During lessons, teachers can give feedback to the students and tailor the lesson content to meet their needs. That's where CMU learning scientists John Stamper, Amy Ogan and Judith (Odili) Uchidiuno come in.
The researchers are examining the data Yiya currently collects, things like user demographics and test scores, and making recommendations on how to improve the learning experience.
"Amy's team is specifically skilled in helping us work within the constraints of deploying an app on a basic phone keypad, which only allows a max of 250 characters," Wambuzi said. "We also know that we need to limit our surveys to 10 questions or less — we found that if there are too many questions in a row, learners tend not to complete them."
Ogan, the Thomas and Lydia Moran Associate Professor of Learning Science at CMU's Human-Computer Interaction Institute (HCII), is an expert in using educational technology. She said CMU can help Yiya effectively reach different kinds of learners.
"When we start thinking about technologies that are intended to support learners with the least access to quality education, we also want to think about how they are serving learners in rural villages, young mothers, and learners who speak a variety of different languages in their home," Ogan said. "Part of this is thinking about how learning opportunities are being delivered equitably."
Stamper, an associate professor at HCII said data is crucial to making sure Yiya is getting through to learners.
"There is potential for Yiya to reach all of the out-of-school learners in Uganda, so we are really focused on how we can show that what they're doing is effective and that learning is happening," Stamper said.
By Caroline Sheedy
Web Link(s)

Related People
John Stamper, Amy Ogan, Judith (Odili) Uchidiuno
Research Areas
Learning Sciences and Technologies