CMU and Shonan Seminar Partner to Improve Classroom Engagement and Learner Outcomes by Empowering Student Focus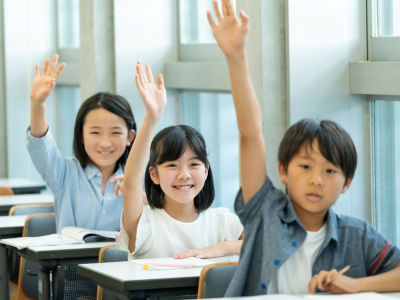 A group of Carnegie Mellon University masters students is partnering with Shonan Seminar Co., Ltd. to provide enhanced opportunities for student learning, growth, and achievement based on analyses of the behavioral and engagement data of both students and teachers.
Partnering with the Carnegie Mellon University's Masters of Educational Technology and Applied Learning Science (METALS) program through a Capstone project sponsorship provides a unique perspective and employs evidence-based educational technology in determining the most effective solutions. The CMU Human-Computer Interaction Institute faculty who teach the capstone course, Ken Koedinger and Bruce McLaren, are recognized as world leaders in the field of learning science and cognitive tutors. They are leading a team of highly-trained interdisciplinary masters students to focus on scientifically proven ways to engage children to improve learning outcomes.
Data collected securely by Shonan Seminar includes synchronization and undulation scores to measure attentiveness and on-task behavior in classes taught by teachers at all experience levels, from novice to expert. The synchronization score measures the behavior of all students in the classroom in relation to one another for the purpose of better understanding student engagement. As a teacher develops the ability to identify the perfect amount of time for students to complete a given exercise and for all to remain challenged, a class moves closer to synchronicity. The︎ undulation score︎ is a frame-by-frame report of the percentage︎ of︎ students︎ focusing in the same direction, either up or down. A teacher looks at the students when giving instruction or emphasizing a point, but turns his or her back to write on the board. AI Classroom helps teachers to see whether the environment when they are looking at the board is a positive one— on-task students either watching attentively or solving problems. Both can be viewed in contrast to one another to understand what was happening in the classroom at the time. Every day across 130 Shonan Seminar schools, these AI-analyzed video recordings are taken during instruction from the front and back of the classrooms.
The METALS Capstone team is working with this data, employing advanced learning science methods to identify learning opportunities and present analyses to teachers as specific system recommendations. The hope is that the team will be able to include tracking actual teacher skill development after recommendations are given. The project team is also researching potentially better ways to measure student engagement in a classroom setting and/or when students are learning remotely utilizing Shonan Seminar data that correlates to the class undulation values and synchronization scores. It is expected that the team's exploration of research, ideas, and solutions culminates in a proof-of-concept prototype that may later be developed into a full-fledged product.
Prior to this partnership, Shonan Seminar took a deep dive into researching the correlations between students' attentional functions and their academic performance with Professor Lilach Shalev of Tel Aviv University, as an extension of her research within a Japanese, neurotypical student environment. The joint focus was on practical and scalable outcomes to support students' academic performance and empower teachers, even after the research was completed. Since attentional functions are key elements in effective learning, Shonan Seminar believes that one effective application of the internally developed AI Classroom data is to take a cognitive neuroscience approach to student attention.

"If we are able to observe when students are not paying attention, we believe that we may be able to reliably identify students who have attentional difficulties and provide training which supports those students' efforts to attend regularly and perform at a higher level," according to Yoshi Okamoto, founding director of the learning science and learning innovation labs at Shonan Seminar Co., Ltd. Even top performing students may benefit from opportunities to improve attentional function. Those that excel have mastered techniques to recognize their tendency and refocus as needed. AI Classroom is designed to support teachers to enable all students to learn better and succeed academically, whether the path be through adapted student behavior or teacher training. Shonan Seminar is excited to work with Carnegie Mellon University's Masters of Educational Technology and Applied Learning Science (METALS) Capstone Program to go beyond attention into broader learning science research and further enrich the learning environment for their students using their AI Classroom and training methodology.

About the METALS program
Masters of Educational Technology and Applied Learning Science (METALS) is an intense, interdisciplinary program that condenses a normal two-year graduate program into twelve months. METALS trains graduate students to become learning engineers and LX (learning experience) designers. In these roles, our graduates apply science of learning principles, evidence-based research, qualitative and quantitative cognitive task analysis, and data-driven methods to design, create, and improve educational resources and technologies that enable students and instructors to succeed.
The professional program culminates with a seven-month capstone project for an external client. Guided by industry and faculty mentors in this interdisciplinary team-based research and development project, students experience the end-to-end process of a product cycle from idea through prototyping. In doing so, they practice learning engineering applying the techniques, theories, and methodologies that they have mastered in the program to deliver a high fidelity prototype for their client. The prototype serves as a proof of concept for the client's new or enhanced EdTech-based service, product or system. Students learn to create effective solutions for formal and informal settings such as schools, workplaces, and museums.
The program is taught jointly by leading experts in the Human-Computer Interaction Institute and the Department of Psychology at Carnegie Mellon. METALS is also part of Carnegie Mellon University's Simon Initiative.

About Carnegie Mellon University
Carnegie Mellon University challenges the curious and passionate to imagine and deliver work that matters. A private, global research university, Carnegie Mellon stands among the world's most renowned educational institutions, and sets its own course.
Over the past 10 years, more than 400 startups linked to CMU have raised more than $7 billion in follow-on funding. Those investment numbers are especially high because of the sheer size of Pittsburgh's growing autonomous vehicles cluster – including Uber, Aurora, and Argo AI – all of which are here because of their strong ties to CMU.
With cutting-edge brain science, path-breaking performances, innovative startups, driverless cars, big data, big ambitions, Nobel and Turing prizes, hands-on learning, and a whole lot of robots, CMU doesn't imagine the future, we create it.
About Shonan Seminar Co., Ltd.
Shonan Seminar, an education company supporting students at every stage of their learning journeys, innovates learning by applying technology to the classroom. Their mission is to "Learn, Nurture and Serve." Building on 40 years of excellence in classroom teaching, Shonan Seminar established learning science and learning innovation labs to adapt, develop, and advocate for teaching and learning efficacy methods. They apply technology to the classroom, design and conduct innovative research with some of the world's leading universities and educational institutions, and consult and mentor for EdTech communities and startups globally. Shonan Seminar values learning innovation in service to the next generation. They empower those who are both learning in today's education system and reimagining education for tomorrow.