Agarwal is First Graduate of New BS in HCI Program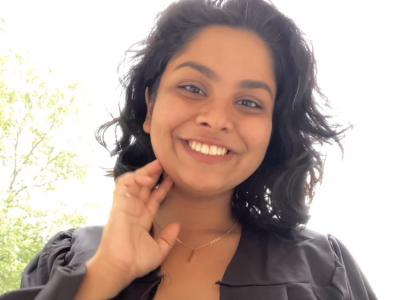 Less than one year after the Bachelor of Science in Human-Computer Interaction program was established at Carnegie Mellon University, the Human-Computer Interaction Institute is celebrating its first primary major graduate.
Mansi Agarwal, class of 2021, received a BS in HCI degree during an outdoor and socially distanced commencement ceremony at CMU's Gesling Stadium on Sunday, May 23, 2021.
Agarwal spent her first three years at CMU as a computer science student, but discovered that the field of human-computer interaction (HCI) was a better match for her personally.
"My interests lie in that intersection of psychology and computer science. I have always had an interest in user-centered everything," said Agarwal.
Agarwal was introduced to the HCII during her first year at CMU when she was a research assistant for an OH!Lab project on how people form and manage relationships using professionally produced fiction and non-fiction online video. She also helped to build a literature review and coordinated with research partners to understand the data sources they had available.
When the HCII started the BS in HCI primary major in the fall of 2020, Agarwal's academic advisor, Tom Cortina, told her about the new program. She had already taken some human-computer interaction courses towards the completion of an HCI minor, which gave her a jump start on many of the requirements for the new major.
Some of Agarwal's senior year HCI courses included: Digital Service Innovations, Design of AI Products and Services, Interaction Design Studio 2, UCRE, and of course, HCII Capstone.
Now that Agarwal has completed the BS in HCI program, we asked what she would recommend to someone starting out who wants to learn more about the field.
"My biggest advice would be to talk to and build a relationship with as many faculty members and grad students as possible! The design community is very supportive and helpful, and the people at HCII were the biggest blessing when I switched majors," said Agarwal.
"In terms of classes, Interaction Design Studio provides a good introduction to a lot of different concepts and methods. Design of AI Products and Services is very useful for people who are considering product design. The emphasis is on actually applying that UX knowledge to industry, including building a strong product, learning to pitch it, and thinking about how it can make money," she said. "Plus, professors John Zimmerman and Jodi Forlizzi are amazing, I'd take that class just for the faculty. One of the great things about the HCI institute at CMU is that the people here are innovators. They think in such a futuristic way because of the connection to the School of Computer Science."
The past year has been tough, but despite the challenges of changing majors and attending school virtually during the coronavirus pandemic, Agarwal is excited and ready to start the next chapter of her HCI journey.
"Primary research is my favorite thing to do in UX, which is why I am looking for UX research and design roles after graduation," Agarwal said. "I love going to the field and talking to people. It's so energizing."
Going into the field, or in the case of this pandemic year, conducting virtual interviews and then creating digital diagrams. Still, Agarwal remains positive.
"I started my focus on HCI work when things were starting to go virtual, and I love digital prototyping with Figma. You can huddle up with your team to talk and collaborate without huddling up in one space. It's not like in person where one person has to do all of the writing while everyone is speaking; everyone can write and collaborate at the same time," said Agarwal.
"Because I started my UX journey digitally, I dove right into these digital research and design methodologies online. However, my future house will definitely have whiteboard walls. That's a thing that is going to happen," she added.
We are so proud to pause and celebrate this special moment with Mansi, and we all wish her the best.
"I am so excited that Mansi will hold the honor of being our first BS in HCI graduate," said Jodi Forlizzi, Professor and Geschke Director of the Human-Computer Interaction Institute. "I personally had the experience of working with her in my design course, and it was a wonderful experience to get to know her. I know the future holds great things for her!"
From all of us at the HCII, congratulations, Mansi!