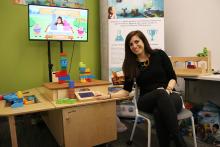 CMU Tested Intelligent Science Exhibits at Carnegie Science Center in Pittsburgh
Hands-on exhibits are staples of science and children's museums around the world, and kids love them. The exhibits invite children to explore scientific concepts in fun and playful ways.
But do kids actually learn from them? Ideally, museum staff, parents or caregivers are on hand to help guide the children through the exhibits and facilitate learning, but that is not always possible.