Zhu, Kaufman Receive Chairs Named Honoring Longtime HCII Faculty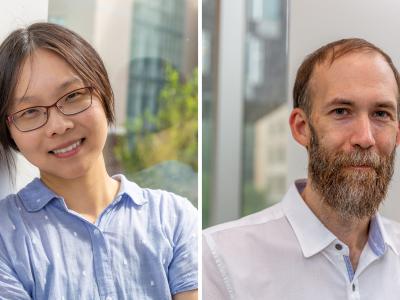 Haiyi Zhu and Geoff Kaufman, both faculty members in the Human-Computer Interaction Institute (HCII), are the inaugural recipients of junior professorships funded by a gift from HCII Professor Jason Hong and his wife, Shelley Zhang.
The professorships are named in honor of two prominent, longtime HCII faculty members – Daniel Siewiorek and Robert Kraut.
Zhu is the Daniel P. Siewiorek Assistant Professor of Human-Computer Interaction and Kaufman is the Robert E. Kraut Assistant Professor of Human-Computer Interaction. They are among 13 newly appointed career development chair recipients across the university who will be honored during a virtual celebration at 5 p.m. Wednesday. Both also will be virtually feted during a pre-reception at 4 p.m. Wednesday that will also feature Hong and Jodi Forlizzi, director of the HCII.
Zhu is a social computing researcher who joined the HCII last year. Her broad interests are in the design and social impact of AI technologies in online and offline communities. She is particularly interested in developing AI systems that respect and balance community stakeholders' values. For instance, she has studied how the algorithmic tools used by Wikipedia to judge the quality of edits and take corrective action can better align with the values of the Wikipedia community.
She earned her undergraduate degree in computer science at Tsinghua University and her master's degree and Ph.D. at the HCII. She served as an assistant professor at the University of Minnesota, Twin Cities, before joining the HCII faculty.
Kaufman, who joined the HCII faculty in 2015, focuses on studying the psychological impact of fictional narratives, games, and computer-mediated interactions and creating new technology for social change. His work has shown that the psychological process of simulating the reality of a fictional character can impact real-life behaviors, such as volunteering and voting. Creating deep connections with fictional worlds can increase empathy and reduce prejudice, he has found.
He received his undergraduate degree in psychology at CMU and a Ph.D. in social psychology at the Ohio State University. Prior to joining the HCII, he was a postdoctoral researcher at Tiltfactor, a game design and research laboratory at Dartmouth College.
Hong and Zhang endowed the professorships using funds from the 2018 sale of Wombat Security Technologies to Proofpoint Inc. Hong was one of the founders of Wombat.
Hong said they wanted to give young faculty members the same kind of help he received when he was awarded a fellowship early in his career and also to honor two faculty members who are known for being mentors. The development chairs will rotate among faculty members every three years.
For More Information
Photo below from an event in February, 2019. L-R: Jason Hong, Shelley Zhang, Bob Kraut, Daniel Siewiorek