Summer 2022 Edition of The Link Now Online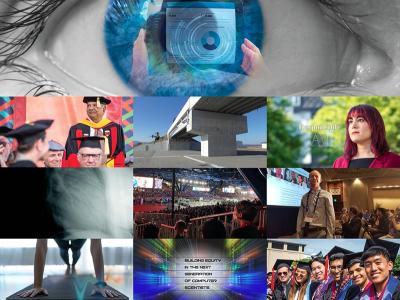 Good work isn't enough for School of Computer Science faculty, students and staff. They strive to make sure their work does good, too — whether it's forging the path to designing, developing and deploying artificial intelligence responsibly; making computer science education accessible to as many young people as possible; or looking beneath the surface to find better health or a safer infrastructure.
The latest issue of The Link, the magazine of Carnegie Mellon University's School of Computer Science, is now online and features stories of good work doing good (and more). The magazine highlights work from across the school, and past issues are available in the site's Archives.
This issue will only be available online due to paper shortages.
Stories in this issue include:
Sensors That Increase Privacy?: Inside the Smart Sensing for Humans (SMASH) Lab, researchers in the Human-Computer Interaction Institute (HCII) use data collected from one type of sensor to train another, increasing privacy.
Accessibility Enables Equality: The widespread lack of accessible features on apps, devices and webpages means that people with disabilities face disproportionate barriers to technology and the needs it can meet. Researchers in the HCII want to change that.
Separating Crack From Fiction: Researchers in the Robotics Institute are using specially developed drones and new convolutional neural network methods to assess infrastructure and determine which cracks might be benign and which could cause collapses like that of the Fern Hollow Bridge in Pittsburgh earlier this year.
Seeing Beneath the Surface: W-Net, a novel convolutional neural network framework, uses raw ultrasound waveforms in addition to the black-and-white ultrasound image to improve the detection of subcutaneous cancer cells.
Building the Next Generation of Computer Scientists: Several SCS programs are making computer science education accessible to as many young people as possible, especially in underresourced communities and in places where such programs would otherwise not exist.
Responsible AI With Hoda Heidari: Faculty member Hoda Heidari believes our collective values hold us together, and if we don't build technologies that reflect those values, technology could tear us apart.
The Girls of Steel Go Global: The SCS-sponsored Girls of Steel robotics team traveled to Houston to compete in the youth robotics championship, pitting their robot against 600 teams from more than 100 countries.
Commencement 2022: A photo essay of the first in-person, on-campus commencement exercises since before the COVID-19 pandemic, celebrating not only the class of 2022, but also the classes of 2021 and 2020.
Vincent Conitzer Coming to CMU: Along with his main appointment in the Computer Science Department, where he will lead the new Foundations of Cooperative AI Lab, Conitzer will hold affiliate and courtesy appointments in the Machine Learning Department, the Department of Philosophy in the Dietrich College of Humanities and Social Sciences, and the Tepper School of Business.
Honoring Raj Reddy at Commencement: Raj Reddy, a pioneer in robotics, artificial intelligence and speech recognition, received an honorary doctor of science and technology degree during CMU's 2022 Commencement.