Spring Capstones in Full Swing at HCII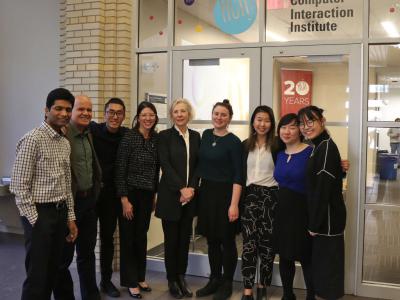 For several of the majors in the Human-Computer Interaction Institute, the spring semester is synonymous with capstone projects. And now that spring break is upon us, capstone projects are well underway for Carnegie Mellon University students in the undergraduate additional major in Human-Computer Interaction, Masters of Human-Computer Interaction (MHCI), and Masters of Educational Technology and Learning Science (METALS) programs.
Undergraduate projects are one semester in duration and are overseen by Robert Kraut, Herbert A. Simon professor of human-computer Interaction. Topics for the nine undergraduate capstone projects this year are as diverse as the field of human-computer interaction itself. Projects include improving assistive technology, tutoring systems, language mapping, the dining experience, designing a modular home and several health-related topics. Each team of four or five students collaborates with their project sponsor, giving students the professional opportunity to work directly with doctors, entrepreneurs, and university professors.
The MHCI program is an accelerated, 12-month professional masters which culminates in an 8 month capstone project. MHCI capstones are selected for their focus on complex problems arising from the overlap between human needs and technical solutions, as well as their potential for strategic impact on the sponsoring organizations. This year, our 13 project topics range from accessibility and management of massive data sets in extreme scenarios, to the exploration of interactions with automated vehicles. Each team is comprised of between four and six MHCI students, two CMU faculty advisers, and several designated partners from the sponsoring organization. In addition to an already rigorous spring semester, MHCI teams are faced with the challenge of integrating with their client organizations to serve as subject matter experts on human-centered design and HCI, with the end goal of delivering meaningful insights and designs to their client.
METALS students are working with five different Capstone sponsors this year, ranging from universities, learning platforms, and consultants to create a new or enhanced EdTech-based service, product or system. The seven-month-long METALS capstones kicked off in January with in-person or virtual client team meetings. From January to May, students conduct user research and create low-fidelity prototypes in order to get timely and meaningful feedback from the sponsor. By summer, the team will narrow the focus of their research and conduct weekly iterations of prototypes, analysis, and user testing. Collaboration will continue until students submit their final deliverables at the end of the summer semester.