SCS Seniors Shine as Scholar Athletes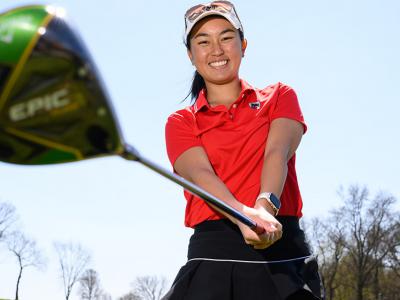 Nadia Susanto and Michael OBroin will both earn degrees from the School of Computer Science during Carnegie Mellon University's upcoming Commencement exercises on Sunday, May 15. But they'll also leave the university with something not every student can claim: top-notch records as athletes.
Nadia Susanto
Susanto, co-captain of the CMU's women's golf team, will earn degrees in business administration from the Tepper School of Business and human-computer interaction from SCS. Academically, she's been chipping away at using virtual reality to help golfers study courses prior to playing them through an app called GolfReality. Still early in development, the app takes raw data from a yardage book — incorporating angles, distances, slopes and surfaces — and relays that information into virtual reality to make 3D models of courses.
Outside the classroom, Susanto has helped the golf team thrive. She's a three-time first-team All-University Athletic Association pick and a two-time All-Great Lakes Region selection. She placed 12th in the NCAA Division III Championships last year to help the Tartans to a second-place national finish — their highest standing in school history. Headed into the next NCAA Championship this week, Susanto's senior scoring average is 75.5, down from 78.37 across the last three collegiate seasons.
Her influence goes beyond the field of play, said her coach, Dan Rodgers.
"She came in as our highest-ranked female player, and as varsity captain, I've been able to talk to her about how to build the team and put together our training plans," he said. "She's done a spectacular job navigating life outside CMU, and it's been cool to watch her take on new challenges while building something that could be used by a lot of people in the golf industry, too."
After graduation, Susanto will head to New York City to work as a deals strategy associate with PwC's Strategy&.
(Read the full story on CMU's News website.)
Michael OBroin
OBroin, who will earn his bachelor's degree in computer science, is in track and field for the long run, and his effort has paid off. He took second place in the 5,000-meter run at the 2022 NCAA Division III Indoor Track and Field Championships in March, earning All-American recognition and the highest showing for a runner at the meet for a men's track and field athlete in Tartan program history.
He's also set both the indoor and outdoor Tartan records for the 5,000-meter run.
"He has developed self-confidence that has brought his running to a whole new level," said Tim Connelly, the Tartan head cross country coach and associate head coach for track and field.
Connelly said that OBroin has been a contributor to both teams since his first year at CMU. During his time as a Tartan, the men's cross country team has won the regional championship three times while winning the University Athletic Association (UAA) Championship twice.
Academically, OBroin found the path to success through coursework and internships. He worked as an engineering intern with Caterpillar's Pittsburgh office for a summer and during his junior year. Last summer, he interned with Amazon Robotics in Boston. He also served as a member of the student-athlete advisory council and as a peer tutor for introductory computer science courses.
OBroin will travel to Boston to join Amazon Robotics full time after graduation.
(Read the full story on CMU's News website.)