SCS Ph.D. Students Designed, Taught New Course To Make Computer Science More Welcoming, Inclusive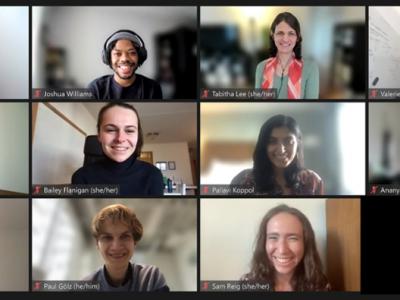 The Computer Science Department's new course focusing on issues of justice, equity, diversity and inclusion in computer science and society got its start when a group of graduate students decided to create the training they wished they had received.
And after hundreds of hours of work by 15 Ph.D. students —pilot programs, countless conversations with faculty and students, data gathering, and developing and tweaking course material — CS-JEDI: Justice, Equity, Diversity and Inclusion is now a required part of the curriculum for incoming Ph.D. students in computer science. It's also being looked at as a model by both other departments in the School of Computer Science and universities elsewhere.
The course was created and taught by Abhinav Adduri, Valerie Chen, Judeth Choi, Bailey Flanigan, Paul Göelz, Anson Kahng, Pallavi Koppol, Ananya Joshi, Tabitha Lee, Sara McAllister, Samantha Reig, Ziv Scully, Catalina Vajiac, Alex Wang and Josh Williams — all doctoral candidates in SCS who represent nearly every department in the school. The team received Carnegie Mellon University's 2022 Graduate Student Service Award and will be honored during the Celebration of Education Award Ceremony on Thursday, April 28.
"This team of 15 students have done exemplary service to CMU, which will pay dividends for years to come. They saw a problem on campus and took it upon themselves to find a constructive, evidence-based solution," a group of computer science professors, including Srinivasan Seshan, the head of the Computer Science Department (CSD), wrote about the students. "Developing the course was an enormous effort that took more than 1,300 student-hours. The team has displayed the leadership, scholarship and hard work that we hope to see in our students."
The motivation for the course began in 2020 when members of the team informally surveyed Ph.D. students in CSD, many from historically underrepresented groups, and found that many students mentioned encountering unwelcoming and distressing behavior from other students, faculty and staff. Students surveyed described struggling to address issues they faced; not knowing how to intervene on the behalf of themselves and their peers; and being unsure who to involve when handling issues with advisors, professors, collaborators and students.
The survey prompted the team to create a course for new Ph.D. students to prepare them to engage with a diverse community. The team developed the curriculum and worked with students, faculty and staff to refine it.
Several students said they enjoyed the course and valued hearing the experiences, opinions and perspectives of others. Students also said that they wouldn't have typically picked the course but were glad they did.
The course gave Cori Faklaris, a Ph.D. student in the Human-Computer Interaction Institute, a language for discussing diversity, equity and inclusion issues, and a space to engage in these issues with fellow students.
"These discussions helped me devise strategies for interrupting or forestalling myself from acting on my biases, such as rehearsing different language or how to offer support but not advice when it is not requested," Faklaris wrote. "I learned the value of seeing allyship as an action, not an identity, in that we need to put energy and time into specific behaviors to help others even when they don't ask for it."
Shuyan Zhou, a Ph.D. student in the Language Technologies Institute who took a version of the course in 2021, wrote that the class taught her the basic concepts about diversity, equity and inclusion that helped her understand systematic biases and what individuals can do to address them. She said the course allowed her to become more compassionate and empathetic toward members of the SCS community and reflect on her personal experiences.
"This class makes me feel like the community I live in actually cares about students' well living — some staff members are committing to improving the DEI and well-living of the students, " Zhou said.
Faculty at other universities, including MIT, have contacted the team about adapting the course for their institutions. The team is working to make the materials and other details of the course open source so any institution could adopt it and teach it. The team aims to make teaching CS-JEDI as accessible as possible so computer science becomes more inclusive and welcoming, both nationally and globally.