SCS Faculty Receive More Than $4.5M in NSF CAREER Awards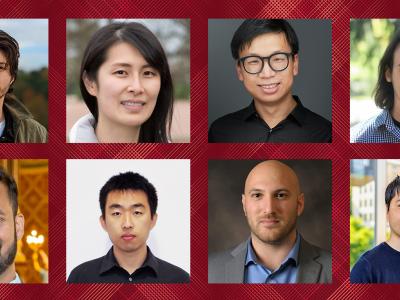 Eight Carnegie Mellon University researchers in the School of Computer Science recently earned Faculty Early Career Development Program (CAREER) awards from the National Science Foundation totaling more than $4.5 million. The awards are the foundation's most prestigious for young faculty researchers.
Andrej Risteski
Andrej Risteski, an assistant professor in the Machine Learning Department, received nearly $530,000 to build scientific and mathematical foundations of modern generative models and for understanding their failure modes at deployment time.
Generative models like DALL-E and ChatGPT exhibit remarkable potential for emerging technologies, but training them often resembles alchemy, involving extensive trial and error and considerable amounts of human hours and computational resources. Furthermore, the models cannot easily transfer and apply learned skills in new settings, which makes the possibility of using them in safety-critical scenarios unlikely.
Risteski will develop new algorithmic tools to better understand and enhance these models, and to formalize settings where they can successfully operate across different data.
Wenting Zheng
Wenting Zheng, an assistant professor in the Computer Science Department (CSD), earned nearly $596,200 to build a framework for automating multiparty computation (MPC), a cryptographic technique that allows organizations to run complex computations on joint datasets without revealing sensitive inputs to other parties.
Developing efficient MPC protocols is a labor-intensive process that requires cryptographic expertise that is out of reach for most users and developers. Zheng's work will accelerate and democratize the adoption of MPC by designing and building an end-to-end, integrated compiler-runtime framework that automatically generates and executes optimized, workload-specific MPC protocols.
Zheng's work will also develop new graduate courses and outreach programs to make research more accessible to undergraduate students.
Jun-Yan Zhu
Jun-Yan Zhu, an assistant professor in the Robotics Institute (RI), earned nearly $582,000 to develop visual-recognition algorithms that can distinguish rare and unseen objects by using deep generative models.
Modern visual recognition systems rely on human input to capture and annotate large amounts of real data, which can be costly for common objects and impractical for rare objects. These limitations make it difficult for a system to adapt to continuously changing environments. Zhu's project will explore the use of large-scale generative models to learn and analyze visual recognition, automatically creating and labeling data that can fully depict rare objects and corner cases.
This work could benefit various applications, including autonomous driving, assistive robots, health care, e-commerce and mixed reality. Additionally, this research will translate to code, models, courses and tutorials to benefit the broader scientific community.
Matthew O'Toole
Matthew O'Toole, an assistant professor in CSD and RI, received nearly $600,000 for studying a mixed-state computational imaging theory and developing corresponding techniques.
The theoretical underpinning of any computational imaging technique is its model for light propagation. Many existing models depend on incident light — or light that falls onto a subject — being coherent, which means it comes from a source with consistent wavelengths. They do not always account for incident light having varying wavelengths or polarization states, making it incoherent. O'Toole's work will develop a comprehensive theory that connects techniques used in both the incoherent and coherent states to establish a mixed-state approach to sense, illuminate and analyze scenes, and to develop new computational imaging tools, including microscopes, 3D sensors and optical vibration sensors.
Additionally, O'Toole will develop a low-cost, open-source projector-camera platform to easily implement computational imaging techniques, which will be used to educate students at all levels.
Sauvik Das
Sauvik Das, an assistant professor in the Human-Computer Interaction Institute (HCII), earned nearly $594,000 to design and evaluate adversarial machine learning antisurveillance technologies to combat automated identity detection online.
Das will develop a human-centered application that allows users to touch-up images they choose to share online in a manner that helps evade facial recognition and other forms of automated surveillance.
His project will also include educational activities to improve public literacy and knowledge of how to protect images shared online, including webinars and video lectures open to the public and organized in concert with advocacy organizations for populations at higher risk of automated surveillance.
Zhihao Jia
Zhihao Jia, an assistant professor in CSD, received $638,000 to explore an automated, end-to-end approach to building efficient, scalable and sustainable machine learning systems for diverse applications and hardware platforms.
While machine learning has become increasingly integrated into society, deploying these models requires significant manual effort to ensure optimal performance with high accuracy. Jia will study methods for replacing manually designed performance optimizations with automated generation, verification and application processes.
Jia's work could reduce the energy consumption and financial cost of modern machine learning techniques. The project also includes outreach initiatives to attract students from populations underrepresented in computing.
Dimitrios Skarlatos
Dimitrios Skarlatos, an assistant professor in CSD, received nearly $588,000 to design and build a virtual memory abstraction that is scalable, heterogenous and secure to meet the current breadth of datacenter computing.
Virtual memory is a cornerstone abstraction of modern computing systems that enables virtualization, programmability and isolation of memory resources. However, existing virtual memory mechanisms were not designed for the current era of datacenter computing and its ample memory capacity, plethora of heterogeneous hardware resources, and abstraction-breaking security vulnerabilities. Skarlatos' research will address these challenges to create more efficient, sustainable and secure datacenters.
The project also includes undergraduate and graduate course offerings, research opportunities, and K-12 outreach activities.
Hirokazu Shirado
Hirokazu Shirado, an assistant professor in the HCII, earned nearly $450,800 to explore how technology can improve intergroup communications and cooperation online, enabling diverse societies to operate more effectively.
Intergroup communication benefits society in many ways, including stronger civic engagement and increased resources. But groups face challenges with trust, exclusion and negative stereotyping, which can hinder productive communications.
Shirado's work will develop models of intergroup communication and patterns of cooperation to then inform interventions. The research will incorporate natural language processing, conversational AI techniques, network science and user-modeling methods to design algorithms that can suggest conversation partners, topics and styles that will help people across different groups communicate more effectively.
For more information about the NSF CAREER awards, visit the foundation's funding website.
Related People
Hirokazu Shirado, Sauvik Das