PhD students contribute to Fall ACM XRDS issue on The Computer Scientist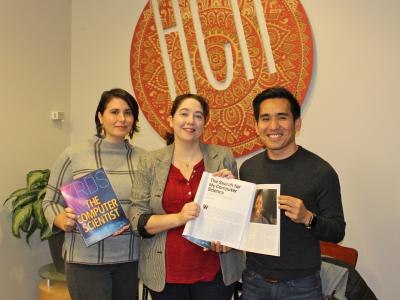 Four Ph.D. students from the Human-Computer Interaction Institute contributed to the Fall 2018 issue of XRDS (Crossroads), the ACM Magazine by students for students. XRDS is a quarterly print and online publication that reaches tens of thousands of computer science students around the world.
This issue, "The Computer Scientist," features interviews with a variety of computer scientists about their paths to this broad field. 
Volunteering for this magazine is a service to the greater computer science community. Gierad Laput, Judeth Oden Choi, Judith Odili Uchidiuno and Cori Faklaris dedicate time to this student magazine in addition to their already rigorous academic responsibilities in the HCI Ph.D. program at Carnegie Mellon University.
Gierad Laput took on the multi-year volunteer commitment of co-editor-in-chief of the XRDS magazine at the beginning of the year. His favorite part of the experience so far is leading a diverse team outside the confines of the lab and University when collaborating with the other student volunteers all around the world. Laput's HCI research area includes sensors, novel interaction techniques, and applied machine learning.
Judeth Oden Choi has been a feature editor for XRDS for the past three years, and was also a guest editor for this issue. In the article "The Making of a Computer Scientist," she noted the importance of diversity and inclusion in the computer science community. "Not only should we consider the diverse culture of users, but also cultural diversity in the workplace. As future computer scientists bring diverse experiences to the work, it will then help to shape the future of the field," said Choi. Her HCI research area includes social justice activism on Twitter. 
Judith Odili Uchidiuno wrote a personal feature about her own computer science journey from a boarding school in Nigeria to where she is today. "Writing about my experience gave me the opportunity to voice out the insecurities I feel sometimes as a computer scientist. My research focuses on culturally appropriate education technologies -- it's not the first thing people think of when they think about computer science. Writing about my journey reminded me that I have done a lot of the things people typically think a computer scientist does, and I didn't get much fulfillment from them. It was a solid reminder that I am indeed a computer scientist," said Uchidiuno.
Cori Faklaris is social media editor for the magazine, a two-year-long volunteer appointment. Managing the Twitter and Facebook accounts for XRDS helps Faklaris to keep her social media management skills up to date, a craft she honed during her career in journalism. "This also forces me to stay engaged with what we call the 'ground truth' of our research into the social contexts of information security and user behavior," said Faklaris. "And, I always want to keep up with the current memes!" Her research includes usable privacy and security and in social computing.
HCII assistant professor Lining Yao was also featured in the issue as one of the computer scientists in action. Her work in fabrication is at the intersection of computer science and engineering. "Every student entering my lab has an unique educational background, but they soon learn to be anti-disciplinary. They work on research across the physical and digital boundaries in the field of morphing matter, not only through collaboration but also through the process of developing an independent and multi-disciplinary identity," said Yao.