MHCI Alumnae Lead Panel Discussion at Grace Hopper Celebration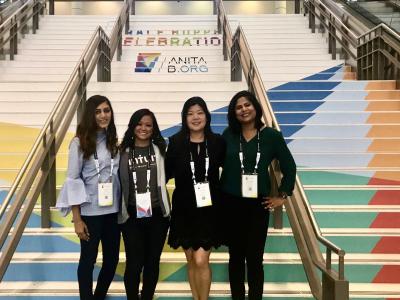 Four Master of Human-Computer Interaction alumnae were selected to lead an HCI panel discussion at the 2017 Grace Hopper Celebration of Women in Computing in October. Class of 2011 graduates Christie Auw, Nisha Desai, Anubhuti Jain, and Syp Vandy Siligato presented, "Using the Art of Influence to Move Ideas Into Action."
Led by moderator Nisha Desai, user experience design manager at Rodan + Fields, the panel focused on why influence is such a critical skill when working as part of a cross-functional team. The panelists discussed ways in which students and early-career professionals can develop an "influencer mindset" to help implement new concepts and sell ideas, while gaining trust and promoting collaboration among team members.
Although all four women have chosen very different career paths since graduation, each works within the UX domain. "Women in HCI tend to have a leg up in getting their ideas across and moving them into action. The fact that we are all influencers in our companies was the common topic we were excited to discuss" said Syp Vandy Siligato, senior interaction designer at Intuit and co-founder of startup, Live Offline.
Building trust is also crucial when working as part of a team. From students with different majors collaborating on academic projects to cross-functional industry teams, lack of trust and empathy is a major reason why team members often feel unheard or uninvolved. The panelists cite various examples of how using subtle influence techniques can be used to overcome group inaction or resistance to ideas.
"As UX professionals, you have to collaborate," said Christie Auw, experience researcher at AirBnB. "MHCI gave us good practice in terms of how to work together while being part of a cross-functional team. We learned the soft skills, like how to get buy-in for your ideas and building empathy. The technical skills gave us the ability to speak a lot of different languages to our cross-sectional partners. From programming, to design, to research methodology, being able to speak in those languages helps to build empathy and gain credibility, which in turn builds trust."
Connecting with other women at Grace Hopper allowed the panelists to gain fresh perspectives when tackling problems, while at the same time empowering one another. Says Vandy Siligato, "Sometimes we're so caught up in our own bubbles with what we think we can influence within our own companies or teams, that if we take a moment to get feedback from other people, you have a newfound energy and inspiration to try and tackle things differently. It's a way to empower each other." Says Auw, "For women in tech, there can be those moments where you feel like you don't belong or wonder if your perspective and feedback is valuable. I just want to be able to connect with other women and tell them that they're here for a reason."
The panel members have also created a Slack channel to further help women in tech connect, collaborate, and influence one another. "Having an online community where you can have discussions about leadership and technical skills is like a support group that you can grow and learn from," said Anubhuti Jain, UX designer for Amazon Global Selling, who believes that building empathy and trust with her partners can drive influence and execution in the workplace.
Taking a design from post-it note to reality involves more than being able to effectively communicate. It takes a certain, specialized set of skills in an environment like HCI where new ideas, designs, and concepts are constantly being brought to the table. Learning how to be influential and sell your ideas, while building trust and empathy, allows for a more cohesive and productive team.
The invite link to the Slack channel is:
https://join.slack.com/t/influencehers/shared_invite/enQtMjcxMDQ2MTczMTY4LWYyODhlN2MwZjkzOThkMjUyM2M0Mzk5OGQ3ZGMzNTk0NTUzZWViNWNjNzhmMzZmNTU2OTM2YWFlZjlkMzUyOGQ