METALS Alumnus to Lead Team in Rural Panama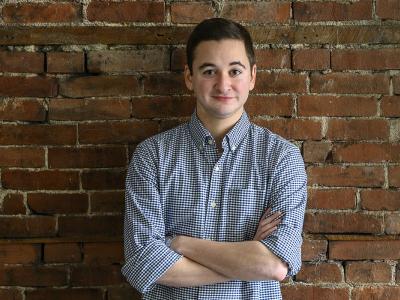 Carnegie Mellon University learning engineers are heading to rural Panama to help teachers improve student outcomes in science, technology, engineering and math (STEM) courses. Greg Bunyea, a recent graduate of the Masters of Educational Technology and Applied Learning Science program, will lead the work.
Bunyea and his colleagues are working to adapt tools from the OpenSimon Toolkit for students at Forum Academy, a unique school that provides access to high school education for students in the central Panamanian province of Coclé.
A gift from John Keffer, a 1971 alumnus of CMU's Tepper School of Business, is supporting this work. Keffer founded Forum Academy, which is supported by Forum Foundation.
"Part of our philosophy at the Forum Academy is to prepare students for lives of active learning," Keffer said. "This technology supports that and bolsters our curriculum in a new and exciting way."
Many students accepted to the Forum Academy are one to three years behind in math, and some have little or no experience using computers. Bunyea said educational technology might be able to help them gain the skills to pass the International Baccalaureate, an internationally recognized degree program.
"These are talented students in need of a boost," Bunyea said. "Forum Academy provides amazing resources, and CMU has a legacy of ed-tech excellence, so conditions are perfect for us to help these students become globally competitive."
The team will start with two tools that have proven effective with students in the United States — MathTutor, a set of software tutors that provide step-by-step help and feedback to students learning middle-school math, and components from the highly successful Open Learning Initiative (OLI) General Chemistry course.
For the educational technology to work well for the students in Panama, Bunyea first needs to understand the curricular needs of the school. He will begin that work when he and his team travel to Coclé this year.
"I'm excited to meet people, be in their environment and get a better expectation of how students are going to use the tools," Bunyea said.
Bunyea and his team are partnering with CMU's Department of Modern Languages to translate MathTutor and OLI Chemistry into Spanish. But it's not a question of simply translating the text.
"The worst thing we can do is translate everything into Spanish and hand it off to the teachers," he explained. "You have to consider the context for the students who are using the programs — whether the content, images and examples are culturally appropriate. For instance, a reference to baseball in a math problem won't make sense to a student who has never heard of the sport."
To start the project, Kenya C. Dworkin y Méndez, an associate professor of Hispanic Studies, is working singlehandedly to translate sections of the tools, taking into consideration both the literal translation of the words and the greater cultural context. Eventually, this project may expand as part of the curriculum for CMU's new master's program in Global Communication and Applied Translation.
"I'm excited to give our students the opportunity to work on such an important project," said Sébastien Dubreil, a professor in Modern Languages who was part of initial discussion about the collaboration with Simon Initiative. "We can truly make a difference for the students and teachers if we translate these tools into culturally appropriate deliverables, while giving CMU students meaningful experience."
Norman Bier, executive director of the Simon Initiative, will join Bunyea on some of the travel to Panama. He said that this work is part of a greater effort the Simon Initiative is making to be in international spaces.
"This is a great opportunity to use established technology in new spaces and learn from it," Bier said. "We can apply and advance what we know — in this case I think what we learn will be applicable to several faculty members who are working to understand how we contextualize language and culture in our educational technology."
Bunyea plans to use LearnSphere, a repository of educational data and DataShop, a data analysis service, to process data from the study. With those tools, he will be able to iteratively improve the courses over time. Working closely with the teachers, he hopes to foster a learning engineering ecosystem at the school, creating a self-sustaining culture at Forum Academy and potentially other parts of Panama or central America. Eventually, Bunyea hopes that teachers at Forum Academy will be able to use the cognitive tutors on their own, and even build courses with the OLI platform.

Story by Caroline Sheedy