Klatzky Elected Into National Academy of Sciences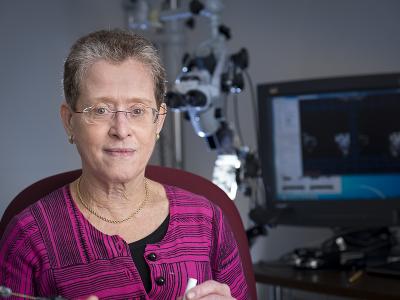 Roberta Klatzky — an expert in cognition whose research examines the relationships between human perception and action — has been elected to the National Academy of Sciences.
"Election to the National Academy is considered a great honor for any scientist," Klatzky said. "I am trying to come to grips with this in my own head. This honor is the crowning achievement in a career."
Klatzky is faculty in the Human-Computer Interaction Institute and the Neuroscience Institute, and is the Charles J. Queenan Jr. Professor of Psychology in the Psychology Department.
Her research career has combined mathematics and psychology to study perception, action and touch from the perspective of multiple modalities, sensory and symbolic, in real and virtual environments. She studies how people use cues from the sensory world to navigate their environment. Her research has been instrumental to the development of telemanipulation, image-guided surgery, navigation aids for the blind and neural rehabilitation.
"I have been fortunate to work with colleagues in robotics and engineering all over the world to apply the study of perceptual systems in interesting, controlled and novel ways to answer questions that are not possible without engineering interfaces," she said.
Klatzky has authored more than 300 articles and chapters and has written or edited seven books. She is a fellow of the American Academy of Arts and Sciences and various professional associations. She has received an Alexander von Humboldt Research Award and the Kurt Koffka Medaille from Justus-Liebig-University of Giessen, Germany, for her work on perception and action. In 2018, Klatzky was elevated to fellow in the Institute of Electrical and Electronics Engineers (IEEE), the world's largest technical professional organization.
Klatzky joins 119 newly elected members in the National Academy of Sciences, a private, nonprofit institution established under a congressional charter signed by President Abraham Lincoln in 1863. It recognizes achievement in science by election to membership, and — with the National Academy of Engineering and the National Academy of Medicine — provides science, engineering and health policy advice to the federal government and other organizations.
Klatzky hopes the field of psychology will retain its roots in basic behavioral science as it develops new thrusts such as neuroscience and machine learning. She would like to see mathematics featured in training new psychologists so they can use this language to communicate with engineers on important collaborations.
"Hard problems demand collaboration, and mathematics provides the anchor point that allows me to talk to engineers on projects," Klatzky said. "I am a good exemplar of Carnegie Mellon, where I can cross the boundaries from basic theory and bring these ideas into the world of applications."
By Stacy Kish
For More Information
Aaron Aupperlee | 412-268-9068 | aaupperlee@cmu.edu
Related People
Roberta Klatzky