HCII PhD Students Return from London Festival of Learning with 3 Awards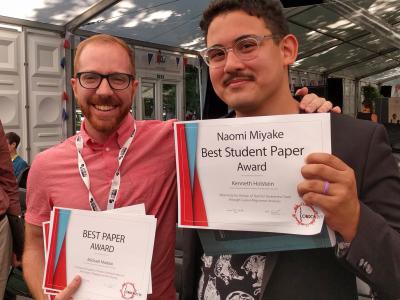 Many experts from the learning sciences and educational technologies communities gathered at the University College London (UCL) Institute of Education in London last week for not one but three conferences during the London Festival of Learning.
The 2018 London Festival of Learning is the first time that the three separate education conferences -- the 13th International Conference of the Learning Sciences (ICLS), the 5th Annual ACM Conference on Learning @ Scale 2018 (L@S), and the 19th International Conference on Artificial Intelligence in Education (AIED) -- have been held under the same roof. This trio of conferences created the unique opportunity for great minds from the overlapping fields of learning sciences, educational technologies and artificial intelligence to gather in the same place and collaborate to improve the future of education.
A large number of Human-Computer Interaction Institute faculty members and PhD students attended and enjoyed the festive learning atmosphere from June 22-30, 2018.
Two third-year Human-Computer Interaction PhD students received the great honor of being recognized for quality work by their scientific peers as they returned from the ICLS and AIED conferences with a total of three awards.
Michael Madaio received the Best Paper Award at the ICLS conference for the paper: A climate of support: a process-oriented analysis of the impact of rapport on peer tutoring M. Madaio, K. Peng, A. Ogan, J. Cassell. This paper investigated the interpersonal closeness of students and tutors, the students' belief in their ability to achieve their goals, and students' prior knowledge, and the impact these three items have on the process and outcomes of peer tutoring.
Kenneth Holstein received the Best Student Paper Award at the ICLS conference for the paper: Informing the Design of Teacher Awareness Tools through Causal Alignment Analysis K. Holstein, B. McLaren, V. Aleven. Linking real-time teacher awareness tools to students' educational goals, this research iteratively refined Lumilo, a pair of smart glasses that can notify teachers of students that may benefit most from their help.
Kenneth Holstein also won the Best Paper Award (1 of 2) at the AIED conference for the following paper: Student learning benefits of a mixed-reality teacher awareness tool in AI-enhanced classrooms K. Holstein, B. McLaren, V. Aleven. This research showed that presenting teachers with real-time analytics about student learning, meta-cognition and behavior through a wearable pair of glasses had a positive impact on K-12 student learning.
While it may seem that the three individual conferences would attract vastly different attendees, a lot of research in the field of learning is currently advancing in the area where the subjects of learning sciences, online environments and AI overlap. Therefore, co-locating the conferences helped in bringing these somewhat separate research communities closer together.