HCII at CHI 2018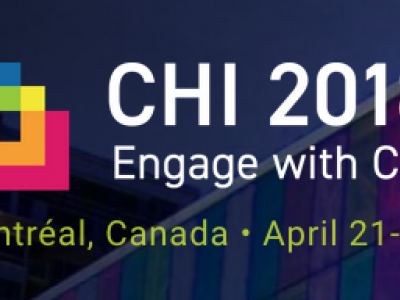 ​Over 3,000 of the world's top researchers, scientists, and designers are traveling to Montréal this week for CHI 2018, the ACM CHI Conference on Human Factors in Computing Systems. The premier international conference of Human-Computer Interaction will take place from April 21-26, 2018.
Of the total 2,592 papers submitted to CHI 2018 (an 8 percent increase from 2017 submissions), 667 research papers were accepted to the conference.
Carnegie Mellon University authors contributed to 35 accepted papers. This was the third most of any organization, following only the University of Washington and Microsoft Research, which had 62 and 44 accepted papers respectively.
CMU's most prolific writers this year were Human-Computer Interaction Institute professor Scott E. Hudson with 5 accepted papers and PhD student Xiang 'Anthony' Chen with 4 accepted papers.
Members of the HCII also received several awards, including the SIGCHI Social Impact Award, one best paper and three honorable mentions.
HCII Awards & Accepted Papers
SIGCHI Social Impact Award
Congratulations to CMU professor Lorrie Faith Cranor who received the 2018 SIGCHI Social Impact Award.
Best Paper Award
Honorable Mention
Honorable Mention
Honorable Mention
Accepted Papers
Alt.Chi
Late Breaking
Symposia Talk
Doctoral Consortium
Demonstrations