Hackathons Give HCII Student Energy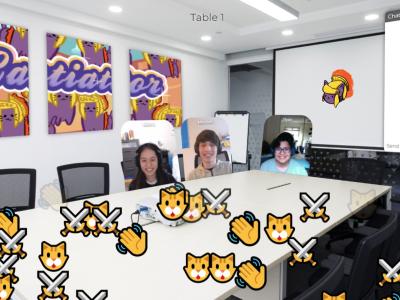 During a long and challenging year, one Carnegie Mellon student has found something that gives her a challenging creative outlet, social interaction, and sometimes some pretty nice prizes, too.
Nancy Zuo, second year Information Systems major and Human-Computer Interaction minor, has competed in — and won — two competitive hackathons in the past two months without leaving her Pittsburgh apartment.
Zuo virtually attended Stanford University's TreeHacks in February and then CMU's TartanHacks in March. These 36-hour hackathon events take place over the weekend with student teams assembling to start a project on Friday night and delivering their solution by Sunday afternoon.
"I enjoy the rush of learning new tools with my teammates during hackathons and working on a project that is not tied to a specific class," Zuo said.
TreeHacks
Zuo's TreeHacks team came together after she met a few other students during a virtual team building session on the video platform, Ohyay. In the course of the weekend, the team went from strangers to collaborators and, despite being from three different universities across two time zones, they found tools like Jamboard that allowed them to work smoothly together.
The team decided to explore how they might create a more immersive, engaging and enjoyable learning experience for American Sign Language (ASL) learners. They built a virtual reality game (VR) with a nostalgic 90s vaporwave vibe for learning and improving ASL hand spelling. Their VR application for the Oculus Quest headset utilizes hand tracking to recognize the proper hand positions of the letters. Each letter appears near an approaching cat wearing a Roman gladiator hat (hence their team name Catiator) and players must spell the letters properly before too many cats reach them.
With over 200 projects submitted for judging, there is plenty of excellent competition at TreeHacks. Team Catiator received the Moonshot Prize and Best Hackathon Project, which qualified the team for Pinnacle's "Olympics of Hackathons" to take place later this year.
"My team instantly got along with each other and it felt really natural collaborating with them," said Zuo. "We shared a lot of the same taste in visual aesthetics which really helped in creating a cohesive game that blended multiple artistic visions."
See their Catiator project on Devpost and watch the :60 demo below. For a fun, in-depth look at her TreeHacks experience, visit Zuo's Medium post: Catiator: Winning Treehacks 2021.
TartanHacks
Just a few weeks later, Zuo and her team logged on again to enter the virtual TartanHacks competition, hosted by Scottylabs at Carnegie Mellon. This time, they turned their focus to designing in the augmented reality (AR) space.
According to their IntARnet project on Devpost, the days of sedentary social media doom scrolling would be numbered. The IntARnet project "is an AR social media where posts are drawings, texts, and 3D models placed around the world by users."
In other words, this is like a mashup of Pokemon Go meets personal social media. A user would make a post and then assign a geospatial anchor to provide its location. If they choose to make their post public, that image would be shown to others in the surrounding area.
They made IntARnet's AR implementation with Unity3D, ARKit, and ARCore and created the 90s UI design graphical elements with Photoshop, Aseprite and Figma.
As TartanHacks concluded, the IntARnet project team received the Scott Krulcik Grand Prize for their work. Learn more from their :60 pitch video below or read a behind the scenes recap in Zuo's Medium post about the event: IntARnet: Winning Tartanhacks 2021.
Thoughts on Hackathons
Before the TreeHacks event, Zuo wasn't sure she had a place at hackathons because she thought they were mostly for developers coding and fixing bugs. However, with two hackathon wins behind her now, Zuo is more comfortable with the design skills she brings to her projects. She mentioned that design and tech skills shouldn't be compared because they are equally valuable towards creating a well-rounded project.
Zuo led her team's UX and graphic design and also applied her experience building pitch decks, a skill she still enjoys from her previous days as a business major doing case competitions. She credited HCII courses Interaction Design Overview (IxDO) and Programming Usable Interfaces (PUI) with the fundamentals she used to analyze the challenges and iterate as a team.
Looking ahead, Zuo and her team plan to participate in future hackathons regularly to build out other skill sets. We look forward to seeing what they create during the Pinnacle competition in the fall.


Photo caption (students left to right): Nancy Zuo, CMU; Mitchell Kuppersmith, University of Michigan; Ryan Davis, Oregon State University