Forlizzi Named ACM Fellow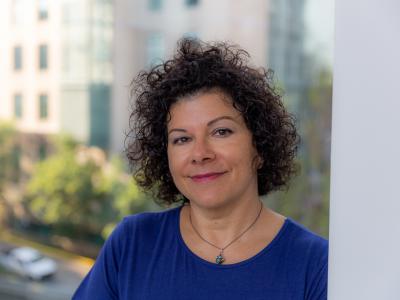 Professor Jodi Forlizzi is among 95 distinguished computer scientists named 2020 Fellows by the Association for Computing Machinery (ACM).
The ACM Fellows program recognizes the top 1% of the association's membership for outstanding accomplishments in computing and information technology and/or outstanding service to ACM and the larger computing community.
Forlizzi, the Geschke Director of the Human-Computer Interaction Institute, was recognized "for contributions to design research in human-computer interaction." A faculty member since 2000, Forlizzi has studied designing and analyzing systems ranging from peripheral displays to social and assistive robots. Her work has included designing educational games that are engaging and effective, designing services that adapt to people's needs, and designing for healthcare.
"This year our task in selecting the 2020 fellows was a little more challenging, as we had a record number of nominations from around the world," said ACM President Gabriele Kotsis. The contributions of this class run the gamut of the computing field, including algorithms, networks, computer architecture, robotics, distributed systems, software development, wireless systems and web science.
"These men and women have made pivotal contributions to technologies that are transforming whole industries, as well as our personal lives," she added.
Others named to the list of 2020 ACM Fellows from the School of Computer Science include University Professor Emeritus Manuel Blum from the Computer Science Department (CSD) and several CMU alumni.
Original story from the School of Computer Science: Blum, Forlizzi Named ACM Fellows