Five SCS Students Named Siebel Scholars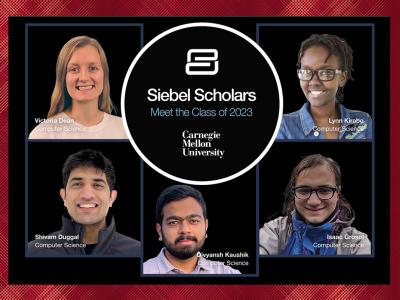 Five graduate students in Carnegie Mellon University's School of Computer Science have been named Siebel Scholars for 2023. Victoria Dean, Shivam Duggal, Isaac Grosof, Divyansh Kaushik and Lynn Kirabo will each receive $35,000 as part of the program.
Founded in 2000 by the Thomas and Stacey Siebel Foundation, the Siebel Scholars program recognizes nearly 100 students each year whose work influences the technologies, policies, and economic and social decisions that shape the future.
"Every year, the Siebel Scholars continue to impress me with their commitment to academics and influencing future society. This year's class is exceptional, and once again represents the best and brightest minds from around the globe who are advancing innovations in healthcare, artificial intelligence, financial services and more," said Thomas M. Siebel, chairman of the Siebel Scholars Foundation. "It is my distinct pleasure to welcome these students into this ever-growing, lifelong community, and I personally look forward to seeing their impact and contributions unfold."
Dean, a Ph.D. candidate in the Robotics Institute (RI), focuses on exploration and task transfer in reinforcement learning and robotics. She has also worked to democratize robotics by building a robotics cloud filled with remotely accessible robots on which everyone can run experiments, collect data and benchmark their algorithms. Dean has mentored more than 15 underrepresented students in AI and related fields.
A master's student in RI, Duggal, studies computer vision, computer graphics and robotics. His work focuses on designing models that enhance the machine understanding of the 3D world using self- or minimal supervision that could be useful in virtual and augmented reality and robot learning. His most recent work establishes a framework to understand 3D object geometry and correspondence from posed internet image collections.
Grosof, a Ph.D. candidate in the Computer Science Department, studies stochastic scheduling and resource allocation, with a focus on settings that arise in modern computing systems. They published the first paper to ever derive an optimal scheduling policy in a stochastic multiserver system, and another that disproved a long-standing conjecture in scheduling optimization. The latter work has improved tail latency, a system's longest response time, which could ultimately reduce slowdowns on the user end of the system.
A Ph.D. candidate in the Language Technologies Institute, Kaushik is interested in exploring human-AI interaction, specifically looking at how to use different forms of human feedback to enhance natural language processing systems. Kaushik is a Science and Technology Policy Fellow at the Federation of American Scientists and has led advocacy efforts in Congress around science, technology and immigration issues.
Kirabo, a Ph.D. candidate in the Human-Computer Interaction Institute, focuses on investigating and designing equitable transit solutions in diverse geographical contexts, including East Africa and North America. In a broader sense, Kirabo aims to understand how underrepresented users are impacted by technology ecosystems, an area of human-computer interaction that is becoming increasingly important since AI and technological systems are usually designed and built for a generic, U.S.-centric user base.
Learn more about this year's class on the Siebel Scholars website.
For More Information
Aaron Aupperlee | 412-268-9068 | aaupperlee@cmu.edu
Related People
Lynn Kirabo