CMU Helps Simcoach Games Train Next Generation of Change Innovators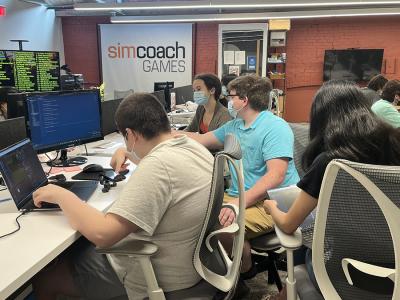 Carnegie Mellon University and Simcoach Games have teamed up to give high school students interested in game design on-the-job training and a first step toward a career in game design, development and production.
Simcoach, a Pittsburgh-based game-design company and production studio founded by CMU alumna Jessica Trybus, creates purpose-driven video games and transformative digital experiences designed to improve decision-making and positively impact attitudes and behaviors. In 2021, the company launched its Summer Pre-Apprenticeship Program. Designed for high school students, the initiative is a registered pre-apprenticeship program and the first game-design apprenticeship in Pennsylvania, meaning it's meant to prepare students to take the next step toward entering a career field without being required to pursue advanced higher-level education. Simcoach pre-apprentices work in a studio environment, are considered employees — and are compensated accordingly.
Simcoach collaborated with CMU design experts to give the summer pre-apprentices a broad range of game-design and production insights.
To reach as many Pittsburgh-area students as possible, Simcoach worked with John Balash in the university's Entertainment Technology Center (ETC), who connected them with local schools for recruitment and promotion. The inaugural six-week program brought 40 students to the Simcoach offices, where they worked in teams of four to plan, design and iterate on games that aim to educate their players.
The first year was a huge success, and the company decided to offer the program in 2022 as well. But with some enhancements.
"In our first year, we were more blue-sky in terms of letting apprentices pick the game topics of greatest interest to them," Simcoach's Jack McClain said. "While we were impressed with their vision and energy — and genuinely appreciated their new ideas, thoughts and perspectives for addressing longstanding challenges — we thought the 2022 cohort would benefit from greater focus on topics aligned with Simcoach's strategic business interests: neurodiversity and environmental sustainability."
Simcoach's current strategic focus is developing games and virtual experiences to augment behavioral health therapy, so many of the apprentice-developed games centered on neurodiversity instruction and education. But McClain also noted that a recurring theme during the 2021 program was climate change. That's where Jessica Hammer, the Thomas and Lydia Moran Associate Professor of Learning Science in the School of Computer Science's Human-Computer Interaction Institute, contributed her expertise.
Hammer, who has spent her career researching and designing games for change, launched a CMU course last fall called "Transformational Game Design Studio," where students designed games that encouraged their players to take action about climate change. Based on both her experience and the trend Simcoach saw in the previous summer, the company chose climate change as one of the game topics for its 2022 pre-apprenticeship program and brought Hammer in to share her experience with the pre-apprentices.
"The research shows that most people are aware of climate change and think it's a serious issue, but don't know how to translate their concern into action," Hammer said. "Games can be an incredible way to get people engaged with climate activism. We have found that making climate action games can be just as transformational as playing them, which is why we were so excited to work with Simcoach on this program."
While Hammer's passion for the topic clearly influenced students, so too did this generation's experience with climate issues.
"Climate change is an issue that has weighed heavily on a lot of their minds," McClain said. "They're always thinking about it. They're always hearing news about it. And it's something relevant to them."
Balash and others from CMU joined the summer program to serve as mentors and provide feedback and advice for the teams.
"I believe it is not only important, but it is our duty as one of the world's most renowned educational institutions to actively co-create meaningful experiences with our community," said Balash, director of educational outreach for the ETC. "With collaborators like Simcoach, we have forged new opportunities for our region in exciting fields like game development and the ever-expanding world of entertainment."
At the end the summer, the students in Simcoach's pre-apprenticeship program had designed 22 games. But what they learned went far beyond how to program in the game-design platform Unity or use art editing programs. They also picked up the skills you often only get on the job.
"In our surveys, a lot of students noted that they learned the soft skills of working in teams: how to resolve conflict, how to present ideas well to not only their own group, but to their peers outside of the group and then to an adult professional audience," McClain said. "There was a lot of reflection like, 'I learned how to do these other things that I didn't expect to learn.'"
In addition to its Summer Pre-Apprenticeship Program, Simcoach also offers a full-time, yearlong apprenticeship program to open the game design field to talented people without college degrees or who haven't followed the traditional path to a design company.
Learn more about Simcoach's apprenticeship and the Summer Pre-Apprenticeship Program on the company's website.
Related People
Jessica Hammer
Research Areas
Game Design