CMU at CHI 2023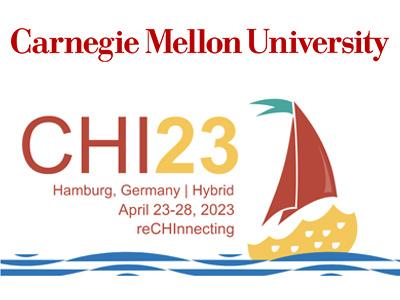 The ACM CHI Conference on Human Factors in Computing Systems will take place from April 23-28, 2023, in Hamburg, Germany. Commonly known as "CHI" (pronounced "kai"), this is the premier international conference on human-computer interaction.
Human-computer interaction is an interdisciplinary field that benefits from researchers with a wide variety of skills. Authors from the Human-Computer Interaction Institute (HCII), as well as other Carnegie Mellon University schools and disciplines, contributed to more than forty accepted papers at the conference this year.
"I am proud that CMU continues to be one of the top academic contributors to the CHI conference. We're delighted to have so much participation and to have so many people attend the premier conference in our field," said Brad Myers, HCII Geschke Director and Professor. "It is also great to see the achievements of our HCII alumni and to see them succeeding as well."
We celebrate the following awards and research affiliated with Carnegie Mellon University authors at CHI 2023:
Awards
Congratulations to the following 2023 SIGCHI awardees with CMU ties:
Accepted Papers and Journals
A list of accepted papers with CMU contributing authors is available here: CMU at CHI 2023.
Carnegie Mellon University authors contributed to more than 40 accepted papers this year, including one Best Paper Award:
Understanding Frontline Workers' and Unhoused Individuals' Perspectives on AI Used in Homeless Services
Six papers received Honorable Mention awards:
"I Would Like to Design": Black Girls Analyzing and Ideating Fair and Accountable AI
Exploring Challenges and Opportunities to Support Designers in Learning to Co-create with AI-based Manufacturing Design Tools
IMUPoser: Full-Body Pose Estimation using IMUs in Phones, Watches, and Earbuds
Investigating How Practitioners Use Human-AI Guidelines: A Case Study on the People + AI Guidebook
Nooks: Social Spaces to Lower Hesitations in Interacting with New People at Work
WebUI: A Dataset for Enhancing Visual UI Understanding with Web Semantics
Videos
Enjoy a quick preview of some CMU papers by watching this playlist of 30-second teaser videos.
Or, here is a playlist of the full 10 minute paper videos.
More than one hundred researchers from Carnegie Mellon have registered to attend this year's hybrid CHI event. The CHI 2023 program is now online.