Ahuja and Pareddy are Finalists in Collegiate Inventors Competition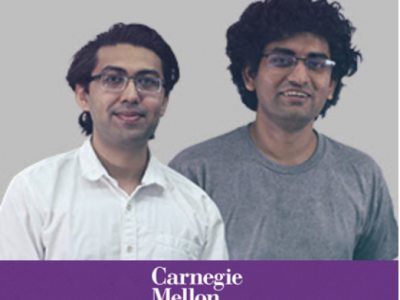 Karan Ahuja and Sujeath Pareddy, HCI PhD students at Carnegie Mellon University, are finalists in the 2020 Collegiate Inventors Competition. Their LightAnchors project is one of only five projects remaining in the Graduate student category.
LightAnchors uses augmented reality (AR) to overlay digital information and interactive content onto real-time video of the real world.
By simply pointing an open smartphone camera at an object, LightAnchor can provide useful, supplemental information about the object displayed on the phone's screen. For example, point a camera at a smoke detector to see its remaining battery life; at a coffee shop's router to view their guest WiFi credentials; and at a ride share's headlights to help passengers find the right vehicle.
Unlike most prior tracking methods which use QR codes and other markers, LightAnchors takes advantage of small status lights already found in many electrical appliances. LightAnchors uniquely uses these LED lights to both anchor virtual interfaces and also transmit dynamic data, allowing "dumb" devices to become smarter through AR without additional cost.
Faculty advisors on the project provide years of expertise using sensors to create novel tech experiences. LightAnchors advisors include: Mayank Goel, assistant professor (HCII, ISR); Chris Harrison, associate professor (HCII); and Robert Xiao, assistant professor (Department of Computer Science, University of British Columbia).
Ahuja, Pareddy, and the other finalists will virtually present their inventions to a panel of judges from the National Inventors Hall of Fame and United States Patent and Trademark Office on October 28. Winners will be announced on October 29.
Established in 1990, the Collegiate Inventors Competition is a program of the National Inventors Hall of Fame and is sponsored by the USPTO and Arrow Electronics.