SCS Remembers Adobe Founder and Ph.D. Alum Charles Geschke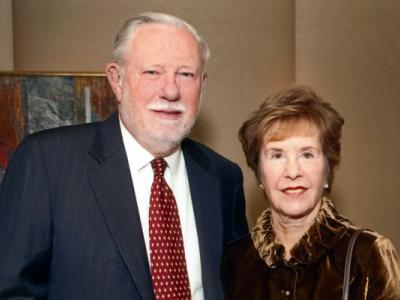 A creator of software that revolutionized the way people collaborate, Charles M. Geschke left his mark on Carnegie Mellon University long after earning his degree.
"Chuck" Geschke, who received a Ph.D. in computer science from CMU in 1973 and continued to give back to the university throughout his life, died Friday, April 16, at 81.
"An influential leader in the software industry for nearly 50 years, Chuck Geschke helped to expand the usability and accessibility of computers for a broad audience," said CMU President Farnam Jahanian. "He also embodied the best qualities of the CMU alumni and computer science communities: a commitment to his colleagues, their work, and a culture of collaboration and generosity. He will be greatly missed in the computing community and the world."
Geschke co-founded Adobe in 1982 with John Warnock, a colleague from Xerox. The pair's first product was Adobe PostScript. Later innovations included Portable Document Format (PDF) technology and the powerful photo and video editing tools in Photoshop and Premiere.
CMU awarded Geschke an honorary doctor of science and technology in 2013. In 2012, Chuck and Nan Geschke endowed the directorship of the Human-Computer Interaction Institute (HCII). Geschke credited his CMU education and the network of people he established at the university as an important ingredient to his success.
"I admire what Carnegie Mellon does and am pleased to support the Human-Computer Interaction Institute," Geschke said in 2012. "The way people relate to technology has a great impact on their lives, so it seems to me that research in human-computer interaction is a natural place where CMU can innovate."
Jodi Forlizzi, the Charles M. Geschke Director of HCII, said the institute's association with Geschke is a great honor and inspiration.
"We try every day to live up to the high standards that Chuck set," Forlizzi said.
Those who worked closely with Geschke, including his long-time business partner Warnock, said the pioneer will be missed.
"I could never have imagined having a better, more likable or more capable business partner. Not having Chuck in our lives will leave a huge hole and those who knew him will all agree," Warnock said in a statement from Adobe.
Adobe CEO Shantanu Narayen called Geschke a guide and a hero for the company and the technology industry. In an email to employees, Narayen wrote that Geschke contributed to groundbreaking software that "revolutionized how people create and communicate."
"As much as his inventions changed the world, it is his focus on people, purpose and culture that has profoundly impacted each of us at Adobe," Narayen wrote. "He believed that good ideas come from everywhere in the company and that it's not only what we do but how we do it that matters most. He dedicated much of his time and talent to various philanthropies and community organizations throughout his lifetime."
Nan Geschke told the Mercury News that family came first for her husband.
"He was a famous businessman, the founder of a major company in the U.S. and the world, and of course he was very, very proud of that, and it was huge achievement in his life, but it wasn't his focus — really, his family was," she said. "He always called himself the luckiest man in the world."
Geschke's network of friends at CMU and in the world of computer science remained strong throughout his life.
"Throughout his career, Chuck remained true to his principles, serving stockholders, customers, employees and community," said Jim Morris, professor emeritus and former dean of the School of Computer Science. "I am grateful — personally and as a member of the CMU community — for Chuck and Nan's friendship and generosity."
Geschke retired as president of Adobe in 2000. He served as chair of the board until 2017 and then as a board member until 2020, when he became an emeritus board member. Geschke received the Marconi Prize in 2010, the equivalent of the Nobel Prize for the field of information technology. In 2008, he was elected to the American Academy of Arts and Sciences, and in 2009 President Barack Obama awarded him the National Medal of Technology and Innovation.
For More Information