NoRILLA: AI Gorilla Brings STEM to Life at the Children's Museum of Atlanta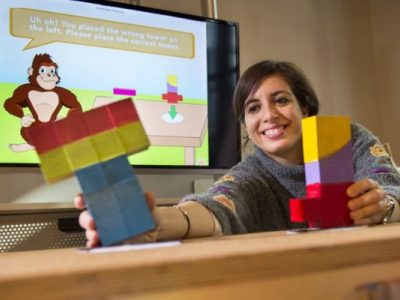 There's something new rumbling and tumbling at CMA! If you've visited the museum lately you've seen children building towers and other structures out of blocks. That's pretty common – we're big block fans! But the friendly animated gorilla sharing challenges and feedback certainly adds a twist. And things get really fun when the foundation below the blocks begins to shake!
Can their structure withstand the earthquake? When kids observe and analyze the outcome and use this new information to shape how they rebuild they're putting scientific thinking to work (and play)! That's the magic of play with NoRILLA. A mixed-reality system, NoRILLA uses real-life blocks, a friendly on-screen gorilla, and earthquake simulation to improve kid's inquiry-based STEM learning, critical thinking, and persistence.
NoRILLA is part of our recent Step Up To Science exhibit renovation. The renovation's first of three phases focus on the cause and effect relationships between force and motion. As kids take on different building challenges, test their creations, and rebuild based on their observations and on-screen feedback they explore a myriad of these relationships. Ultimately this play improves learning without sacrificing fun!
Visit the link below for the Children's Museum of Atlanta's interview with NoRILLA creator Dr. Nesra Yannier.