Meet Major Adrian de Freitas, HCII Ph.D. Student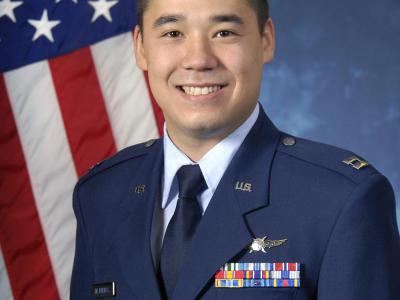 The day of a Ph.D. student's dissertation is typically full of preparation, a few nerves and lots of practice presentations. It is not as often that it includes a military promotion as well. But for Air Force Major and Human-Computer Interaction Institute (HCII) Ph.D. student Adrian de Freitas, it did. On the day that he defended his dissertation after just three short years in the program, de Freitas also accepted his promotion to major in the United States Air Force.
Discovering the Human-Computer Interaction Institute
De Freitas, previously computer science faculty at the Air Force Academy, found himself with the unlikely opportunity to take three years of leave and pursue a doctorate degree; it was an opportunity he leaped at. After receiving permission to start a program that upcoming fall, de Freitas immediately began researching programs.
"I wanted to apply what I learned in computer science to real people and real projects," de Freitas explained. This goal led him to the field of HCI and to current director Anind Dey. "I knew I wanted to work with Anind," explain de Freitas. "Of course, I didn't think I was going to get into Carnegie Mellon." Once he received his acceptance letter, de Freitas lost no time calling Dey and beginning his doctorate work.
Since de Freitas had only three years to complete his entire doctorate degree, he decided to spend as much time before the official start of the program as he could to flush out his area of research. From March until July, before the other students would join campus, de Freitas worked weekly with his to-be advisor, Dey, building out his research projects. That hard work paid off; de Freitas had his first work published in September, just two months after officially joining the HCII.
No Time to Fail
De Freitas had settled on researching sensors and how devices can share them. One of his most well-known projects, Snap-To-It, uses an app on your smartphone to connect your phone to the right appliance, like a printer, by taking a picture of it. On explaining the focus of his projects, de Freitas said that he joined each project very purposefully. "My time limit focused me in a way you don't always see in Ph.D. students," de Freitas explained. "I had to say no to any project that didn't tie into my area." Or in other words, de Fretias said, he didn't have time for a project that could fail.
Fail he certainly did not. After successfully defending his dissertation, de Freitas will be returning to his role in the military after completing his degree is 3 years, a timeline others told him was impossible to sticky by. "I am being stationed in Washington D.C. in the pentagon when I leave CMU. My dream now is to come back to academia and continue with my research."
The People Behind HCI
Looking back on his time in the HCII, de Freitas has no regrets about his leave from the military. He describes the experience as humbling and very rewarding, especially those involving other CMU students. "The most rewarding experiences at the HCII have been working with other students," de Freitas confirmed. "I am always in awe of their creativity and that I had the opportunity to work with such interesting people."
While he doesn't recommend the same timeline for other students, de Freitas does offer advice to students who might be experiencing similar restraints. "If you don't have a time crunch, there is so much that you can get from a project, even if it fails," de Freitas said. "But to someone who has to do it in three years, it is certainly possible. But you have to have the mentality that you can do it." De Freitas adds that his mentality for his time at CMU was simple: "Not completing in time wasn't an option."
To future Ph.D. students, de Freitas also shares the value he saw in the student-advisor relationship. "Anind had faith in me when I never did. Without him and Jen [Mankoff], I would have had a different story."