In the Loop: Jessica Hammer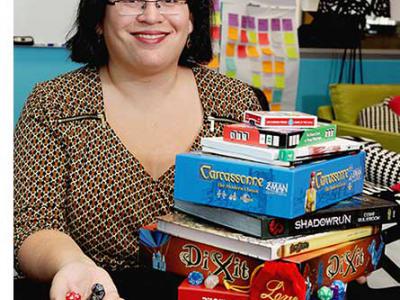 Jessica Hammer is an assistant professor at Carnegie Mellon University, with a joint appointment between the Human-Computer Interaction Institute and the Entertainment Technology Center. She is a graduate of Harvard, with a B.A. in computer science, and earned a master's of professional studies degree in interactive telecommunications at New York University and a Ph.D. in cognitive studies in education at Columbia University.
A member of SIGCHI, the American Educational Research Association, the International Academy of Digital Arts and Sciences, the International Game Developers Association and Women in Technology International, Hammer joined the CMU faculty in 2014. She spoke to Link Editor.
What were your earliest gaming experiences?
I started designing games when I was 8 years old, planning birthday parties for everyone in the class. So I went to the library and got a book called "101 Party Games for Kids." This book was my secret sauce. I would take the games in the book, and then modify them for each party.
Later on, I started babysitting and ran a youth group, and I designed games for those, but I didn't know it was a career path. I just thought it was just something you did when you were a babysitter.
How did you get into computer science?
My dad was a professor of computer science at MIT, so the two things I was convinced I was never going to do were become a professor and study computer science. Instead, I was going to be a poet. My father, who was very tolerant, said, "Well, you should do whatever you want to do in life, but you should take one computer science class. Computer science is a powerful tool that will help you to do your work better."
I almost failed the course, and that made me mad. I said, "No! Computer science is not going to beat me!" I went back and took the next course in the sequence, and at some point, I fell in love. I realized that solving problems and making things was really satisfying.