Hammer and Kalarchian Win Shape of Health Competition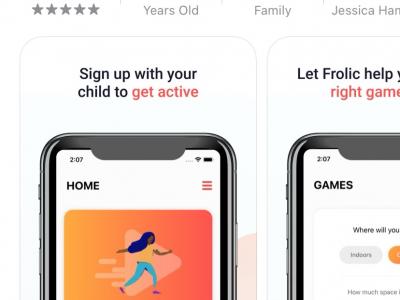 A new game developed by Jessica Hammer and Melissa Kalarchian, two Pittsburgh-based researchers, won first prize in a national competition sponsored by the United States Department of Health and Human Services.
Their game, Frolic, is designed to inspire girls with inclusive and active playtime, and also encourage parents to support their daughters' developing healthy habits.
The Challenge
In 2019, the Office on Women's Health challenge, "Shape of Health - An Obesity Prevention Game," called for entries to create an interactive video game with a focus on obesity prevention or weight control as it seeks new ways to share positive health messages with women and girls.
Genetics, behaviors, and a variety of other factors can result in extra body weight, which can contribute to several of the leading causes of death in women, including heart disease, diabetes, and even certain types of cancer. However, improving behaviors in areas such as diet, physical activity, inactivity, and stress can help women and girls to better maintain their health.
Forming healthy habits early sets a strong foundation for a healthy adulthood. However, inadequate levels of physical activity in children is all too common; only 10 percent of young girls meet the US government's recommended daily activity guidelines, as compared to nearly 30 percent of boys.
Local behavioral weight management expert Melissa Kalarchian, Associate Dean for Research and Professor at the Duquesne University School of Nursing, noticed the competition on Challenge.gov, a website where members of the public can submit their ideas to help the U.S. government to solve a variety of problems.
Kalarchian was looking for a collaborator with game design experience, and contacted Jodi Forlizzi, Geschke Director of the HCII and professor, for a recommendation. Forlizzi introduced Kalarchian to Jessica Hammer, Thomas and Lydia Moran Assistant Professor of Learning Science at the Human Computer Interaction Institute (HCII) and the Entertainment Technology Center (ETC), and the two Pittsburgh researchers knew it was going to be a great collaboration from their very first meeting.
"We agreed on the research and design fundamentals, like respecting girls' autonomy, avoiding weight talk, and designing for all kinds of bodies," said Hammer.
Kalarchian took the lead with the health research data foundations, Hammer used those insights to design a game that embodied them, and then the pair then iterated together as they developed Frolic. Adela Kapuścińska, a 2019 graduate of the CMU School of Art, joined the team and took the lead on the game's UX and UI design.
Frolic: Increasing Active Play Among Girls
"Play can serve as a great way to boost physical activity and carries additional benefits for girls, such as socialization," Kalarchian said. "By helping girls ages 7 to 12 to become more active, Frolic can help them to form healthy habits to carry with them into adulthood."
The Frolic app initiates time for play by sending a notification to a parent's phone. If it is a good time to play, the child can then input some basic info about her surroundings, including whether she will be playing indoors or outdoors, the size of the space available, if she has any friends present, and if so, their abilities to move quickly.
Answering questions like "How active do you want to get?" helps the girls to think about the consequences different types of aerobic or strength training exercises can have on their bodies.
The basic situational data gathered each time the girl is able to play helps Frolic to recommend a few game ideas appropriate for her situation. Each game recommendation comes with step-by-step illustrated instructions in order to support girls of all abilities and enable everyone to have a great play experience.
In addition to inviting girls to participate in active playtime, Frolic is also designed to encourage parents to support their girls' healthy habits. Research shows that parents are less likely to encourage their daughters to be physically active than compared to the encouragement they show their sons. The app shows parents their daughter's activity data and encourages them to have productive conversations with their girls about their physical activity.
Frolic was one of ten entries to clear the first round of competition and advance to an in-person presentation in front of a panel of judges in Washington D.C in 2019.
"We gave a presentation and showed some demo clips of what we made so far. Then we had a really great discussion with the challenge team - we actually went 20 minutes over our allotted slot because the conversation was so vigorous and exciting," said Hammer. "They gave us a lot of great suggestions to incorporate into the game."
"It's been a pleasure to develop this new concept for an evidence-based game with Dr. Hammer and bring it to fruition with students from the OH! Lab," Kalarchian said. "We're confident it's unlike anything currently available and excited to share it with girls and parents."
Frolic is now available for free in the Apple App Store.
Related People
Jessica Hammer
Research Areas
Game Design, Healthcare