Faculty Spotlight: Assistant Professor Amy Ogan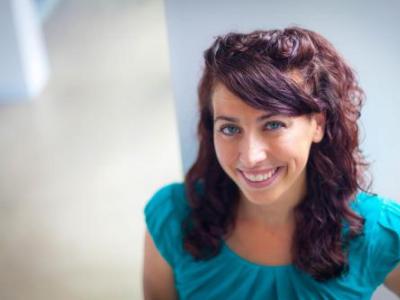 Amy Ogan, an assistant professor in the HCII and an educational technologist, is fascinated by researching ways to make learning more engaging, effective and enjoyable. Ogan is also a recent recipient of the Jacobs Foundation Research Fellowship, a global fellowship program for the research on child and youth development.
Teaching as a Passion
Ogan is twice a graduate of Carnegie Mellon University, where she completed a triple major in computer science, Spanish and human-computer interaction followed by a doctoral degree in human-computer interaction. Her research inspiration came from a love of teaching. Ogan explained that her original inspiration to pursue a Ph.D. came from a longing to become a professor and teach. It was while investigating research opportunities in HCI that Ogan discovered her passion for educational technology.
"I started working on a research project that studied natural language tutoring in geometry. I loved reading the funny things kids said to the virtual tutor. I had this unique chance to see exactly what these children were thinking as they learned."
Her research turned into a lifelong interest in educational technology. "My Ph.D. research really looked at how we can support education in and across cultures. I worked with the military to teach their employees about cultures in the Middle East with the goal to reduce culture shock and negative interactions. Today, I am working on a project to help support novice teaching assistants when they arrive in a new country and have to teach in a foreign environment," said Ogan.
International educational technology has remained a strong motivator in Ogan's research, and her unique background as a fluent Spanish speaker and accomplished computer scientist has directed her international research in areas like Chile and the Philippines. With the Jacobs Foundation fellowship, Ogan is extremely excited to dig into her work, personalizing learning technology, and deploying it into other cultural classrooms.
"This fellowship lets me do the work that I am most excited about."
"The Jacobs Foundation cares a lot about youth education around the world, especially in disadvantaged areas. They are especially excited about the opportunity to leverage educational technology," Ogan said. "Typical teaching and learning practices can differ based on culture, which impacts how the technology is used. For example, we will be looking at how it affects students' use of language in multilingual countries, their collaboration styles in the technology-enhanced classroom, and then how the underlying technologies (such as machine learning) have to be adapted to account for these effects. "
Human-Computer Interaction for All
When asked what motivates her the most in her career as a teacher and researcher, Ogan admits that receiving feedback from her students keeps her enthusiastic about her work. "I get genuinely excited about the student evaluations. I love to get feedback on my teaching, and I always hope students can see how much I care about them." Ogan is also very motivated by experiencing new cultures and traveling to new countries. "Traveling is one of my favorite things to do. I love experiencing new cultures and sitting in a classroom just to observe what the students are doing and where the frustrations might be," she said.
Another motivator? Understanding the importance of your field. "I think HCI is so important. It should be required for all students interested in computer science. Anything you code is not being coded in isolation. It's almost always used to serve a human purpose. Our techniques make you think about that user on the other side of the computer."
When she is not in the office, classroom or a foreign country, Ogan enjoys restoring her historic Pittsburgh home. "Pittsburgh, the whole city, has this 'my heart is in the work' mentality," says Ogan, quoting the famous Andrew Carnegie line. "The whole city is out there trying to make it work. There are so many independent stores and restaurants, which makes this an amazing place to call home."
Learn more about Assistant Professor Amy Ogan on her Human-Computer Interaction Institute page.