Alumni Spotlight: Chris Connors, MHCI '97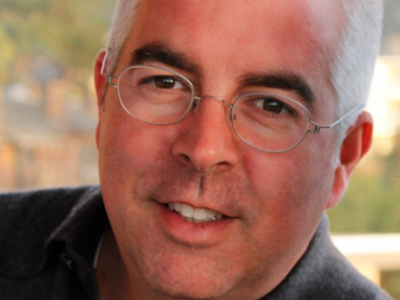 Chris Connor is a 1997 alumnus of the Masters of Human-Computer Interaction; one of the first graduating classes of students in the program. Connors, a Pittsburgh native, has lived around the country working for big names in the UX and HCI industries including NASA, Apple and currently works as a Design Principal at IBM back in Pittsburgh.
How did you hear about the new MHCI program at Carnegie Mellon? What inspired you to apply?
I was in the process of completing a different master's program at the time at the University of Pittsburgh Information System department. One of the perks of taking classes at Pitt is that you can crossover and also take classes at Carnegie Mellon. So I did. I took a User Interfaces class with Brad Meyers and Jim Morris and was able to learn about this new department in the School of Computer Science called the Human-Computer Interaction Institute. That's how I heard about the MHCI program.
As to why I enrolled, I already had an interest in architecture and industrial design, but was always hesitant to enter into these fields. There is an overwhelming amount of cost associated with failure and no opportunity to user test. You can't tear down a building and start over based on feedback. Software is the opposite of that. You can build, test, rewrite, and start over. So I had this interest in technology and design. I wish I could say that I had had the foresight looking at the technology market as it was in 1995 or 1996 and say that I saw the HCI market coming. But honestly, it just interested me. It was the convergence of three areas of interest to me: technology, design, and how people work with things or just how people work. So when I found the MHCI program, I knew I wanted to be a part of it.
As a member of one of the first full-fledged classes, what was your experience like at the MCHI?
When I was a student, there was a lot of freedom or maybe just a lot of latitude because the program was so new. There were certain core offerings that were required of course, but there was also a lot of opportunity as to what you could take. You could go down a few floors and there was all the work in autonomous driving or flying at the time. The Entertainment Technology Center hadn't started yet, but students thought that the intersection of drama and technology might be interesting and then Randy Pausch came and said, absolutely it is. This was all possible because of how much freedom the program had made available to students.
What class was instrumental to you or your career?
One was a course taught by Herb Simon that was cross-listed as an undergraduate, a graduate, and a Ph.D. class. It was a review of his work and others in the field of cognitive psychology. He was already a Noble Prize winner at the time. I thought to myself, how many opportunities are left to take a class with Herb Simon. I probably better take this class. Though I was a little star struck, the class and experience was invaluable to me.
The Capstone has been a critical part of the program since its creation. What was the experience like for you?
Our Capstone project was structured a little differently. We only had two sponsors. Second semester, we chose one of the projects, and then we all worked on that project. Our project involved integrating digital pictures (digital cameras were just emerging into the market), editing these pictures and wirelessly placing a picture into a tablet-like computer. Carnegie Mellon was at the time working with AT&T with wireless Internet; they called it wireless Andrew.
When I went to interview at companies coming out of the program, the Capstone was a great tool during these meetings. I could give employers the presentation, show the research, and show a functioning prototype. I ended up with a company that hired a ton of MHCI graduates, and it was a user experience position mostly in enterprise work. What I didn't expect though, is that most organizations didn't know what to do with MHCI graduates. We weren't going to be writing code or making marketing decisions. So a lot of time was spent trying to communicate what your role was and how you added value. This was happening at Microsoft or Apple. So today this might still happen, but not with the big players in this space.
What is your favorite part about what you do now?
Years ago, IBM used to be primarily a product-based company. Its products lived on every worker's desktop. The IBM typewriter really revolutionized how we typed and as a plus, it was this amazing looking and feeling thing. Eventually, the focus was so significant on custom, consulting engagements that IBM stopped being a product company. What's exciting to me is that the decision to re-engage in the product market has been made. It's a potentially transformative time for IBM. It's interesting to me to be part of what the next 100 years can look like for IBM. The products side is a new way to foster innovation and spur growth. IBM has a strong history of having revolutionary people who inspire innovative design. They still file for and get maybe the most patents of any single company. So inventions are happening, which makes it just a plain exciting time to be in my position.
Do you have a moment in your career of which you are most proud?
I have two. One is the coincidence that both of my parents worked at IBM - it's how they met. My mother, a math major, worked there in 1960. To be a woman with a math background, hired by IBM and hired to teach programing was fairly rare at the time. Having my career take me to IBM is a proud moment for me, because both of my parents would have been happy to see me end up here.
The other is my work on the iWork team at Apple. I was the UI lead for Keynote '09 the presentation software in their productivity suite. It was a satisfying moment for me when I could take my mother to the Apple Store, pick up the box and be able to say, I designed one third of this and our team made all of it. It was satisfying to show this tangible object that our team was responsible for creating.
As the role and influence of HCI changes, how do you describe what it means to you?
HCI is really about finding applications for over 40 years of research into how people perceive the world, act on the world and understand the world. It is using an increasingly broadening set of technology to do that. It used to mean the computer; now it's your phone, or watch or the interface on your car. There is just an ever-expanding array of interaction or touch points that humans interface with regularly. Companies find themselves needing people who understand computing, displays and people. It's a very important job, and it's not getting less important.
---
Are you a Carnegie Mellon Human-Computer Interaction Institute alum? We want to stay connected! You can send us news about yourself, come to campus for a Q&A with students, or give an alumni interview. Send us an email to get in touch. We want to share your news with other alumni, students, faculty, and staff. You can get more alumni news from our LinkedIn alumni group as well.