Rose, Zimmerman Named AAAS Leshner Public Engagement Fellows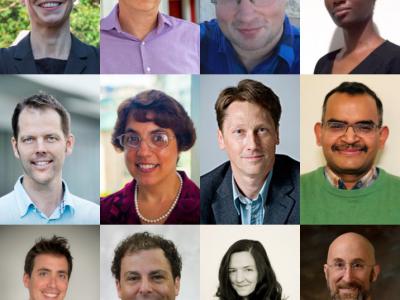 The 2020-21 Fellows are ready to discuss how AI affects our work, decision-making and well-being
The American Association for the Advancement of Science has selected 12 researchers in the area of artificial intelligence as the 2020-2021 AAAS Alan I. Leshner Leadership Institute Public Engagement Fellows.
The researchers, including Professors Carolyn Rose and John Zimmerman of the Carnegie Mellon University School of Computer Science, were chosen for having demonstrated leadership and excellence in their research careers and an interest in promoting meaningful dialogue between science and society.
The field of artificial intelligence (AI) focuses on developing and studying machines and algorithms that augment or mimic human abilities, learn from and adjust to new situations, and perform tasks. The incoming AAAS Leshner Fellows work in a diverse range of disciplines, including information and computer sciences, engineering, deep learning theory, ecology, interaction design, neuroscience, and robotics.
As research in AI continues, questions abound about how to responsibly develop the technology, address biases in programming and applications, and consider opportunities and risks along the pathway from development to deployment.
"I'm pleased to have the opportunity to work towards both less hype and less fear in the general public's perceptions of AI and it's increasing role in every day life," said Carolyn Rose, Professor in the Language Technologies Institute and the Human-Computer Interaction Institute at CMU.
"My hope for this fellowship is to make a shift in my career, to lift my head up from only doing the detailed work of research, and to participate more in addressing concerns around the benefits and harms intelligent technology brings… I want to help society to more effectively steer where they want tech to take them instead of simply reacting to emerging advances," says John Zimmerman, Tang Family Professor of Artificial Intelligence and Human-Computer Interaction at CMU.
The fellows' public engagement interests and approaches are as diverse as their research, and include online blogs, videos and discussions as well as traditional and social media, podcasts, books, policy engagement, K-12 outreach and public science events and competitions. In addition to engaging the public in two-way dialogue about their research through such activities, they also will promote public engagement among their scientific colleagues and within their institutions.
The AAAS Leshner Fellows will meet in June 2020 at AAAS headquarters in Washington, D.C. for a week of intensive public engagement and science communication training, networking and public engagement plan development. In the following year, the fellows will use these tools and networks to increase the impact of their engagement activities and their capacity for public engagement leadership. AAAS staff provide ongoing support and continuing professional development throughout their fellowship year.
The AAAS Leshner Fellows program is in its fifth year and is part of the organization's long-standing and still-growing commitment to science communication and public engagement. The AAAS July 2019 News & Notes features the Leshner Leadership Institute: read more here.
The Leshner Leadership Institute was established in 2015 through philanthropic support. The Institute is managed by the AAAS Center for Public Engagement with Science and Technology, established in 2004 by Alan I. Leshner, now chief executive officer emeritus of AAAS.
The 2020-2021 AAAS Leshner Fellows are (full bios are available on the AAAS website):
Omalabake Adenle, Ph.D.,

director, AJA.LA Studios

Benjamin Grewe, Ph.D.,

professor of systems circuits and neuroinformatics, ETH Zurich

Michael Littman, Ph.D.

,

professor of computer science and co-director of Humanity-Centered Robotics Initiative, Brown University

Heather Lynch, Ph.D.,

IACS endowed chair for ecology & evolution, Stony Brook University

Nicholas Mattei, Ph.D.,

assistant professor of computer science, Tulane University

Anita Nikolich, M.S.,

research scientist, director of the Advanced Computational Thinking Center, Illinois Institute of Technology

Carolyn Rose, Ph.D.,

professor of computer science, Carnegie Mellon University

Brian Scassellati, Ph.D.,

A. Bartlett Giamatti professor of computer science, cognitive science, and mechanical engineering, Yale University

William Smart, Ph.D.,

associate professor of mechanical engineering, Oregon State University

Biplav Srivastava, Ph.D.,

distinguished data scientist and master inventor, IBM Chief Analytics Office

Lyle Ungar, Ph.D.,

professor of computer and information science, University of Pennsylvania

John Zimmerman, MDes,

Tang Family professor of artificial intelligence and human-computer interaction, Carnegie Mellon University