Forlizzi Named Dean of Diversity, Equity and Inclusion for School of Computer Science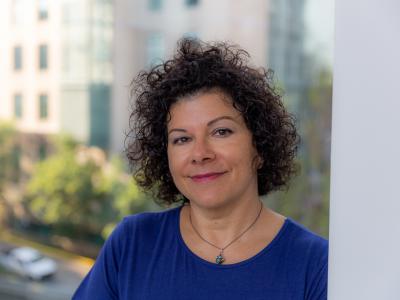 Jodi Forlizzi will lean on her background as a designer to address what she calls "a truly wicked problem" in her role as the inaugural associate dean of diversity, equity and inclusion in the School of Computer Science.
"I'm trained as a designer, and many systemic design practices apply to this work," said Forlizzi, the Charles M. Geschke Director of the Human-Computer Interaction Institute since 2017 and faculty since 2000. "We can start by making small changes that could have great impact."
Forlizzi helped initiate some of those changes in her work as the diversity, equity and inclusion lead for the school. Under her guidance, SCS has started documenting important processes including those for hiring, onboarding, offboarding, reviews, promotions, and award and committee selections. The school has also gathered and centralized outreach activities to better coordinate and update them as needed.
Forlizzi has also led the charge to create a Broadening Participation in Computing Plan and expand the number of GEM fellowships to increase the participation of underrepresented groups at graduate levels in engineering and science.
"We've been chipping away at it steadily, but DEI work is slow. It's incremental, and sometimes it takes a long time for any one action to have an impact." Forlizzi said.
Among her first tasks will be to prioritize the work of Carol Frieze, the former director of the Women@SCS and SCS4All programs. Frieze recently retired, and Forlizzi does not want her work to fade. Additionally, Forlizzi sees a need to expand mentorship opportunities for the diverse cadre of faculty, staff and students the school hopes to attract.
Forlizzi's appointment comes at a time when the spotlight is on institutions to react against racism. Wanda Heading-Grant recently started as CMU's chief diversity officer and vice president for Diversity, Equity and Inclusion, and schools across campus are appointing associate deans of DEI. Forlizzi said the unsettled nature of the US — with protests, rallies and calls for social justice — suggest that conditions are ripe for radical change.
"Now is the time for action," Forlizzi said.
Martial Hebert, the dean of the School of Computer Science, said the unsettled nature of the country and the calls for action are reminders of the importance of this work. He said improving diversity, equity and inclusion is a major priority for both the school and the university, and Hebert is confident Forlizzi is up to the task.
For More Information